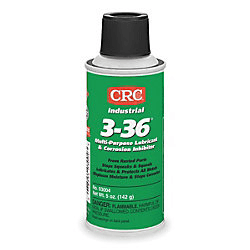 Soluble Oil. Water displacing rust preventive. Aerosol lubricant
Image Credit: Cimcool | HUbbard- Hall | Grainger
Petroleum and mineral oil are used in products such as fluids and greases. Petroleum is a naturally occurring liquid found in the earth's surface; it is used as fuel, in non-fuel products, and as feedstock.
Types of Petroleum and Mineral Oil Products
Petroleum fuels include

Gasoline
Jet fuel
Fuel oil
Diesel oil

Non-fuel products from petroleum include

Greases
Lubricating oils
Solvents

Petroleum-based feedstock is used by the petrochemical industry as naphtha and other refinery gases where the petroleum is used to produce fertilizers, plastics, drugs, textiles, and synthetic rubber.

Mineral oil or liquid petroleum is created from the distillation of petroleum, as a by-product of gasoline. It has relatively low value and is produced in very large quantities. Mineral oil is used in lubricants, coolants, lotions, ointments, pharmaceuticals, and cosmetic products. Refined mineral oil is used as transformer oil. Other petroleum and mineral oil products are also available.
Chemical Composition
Petroleum products and mineral oil products include a broad range of hydrocarbon-based substances of varying chemical compositions and a wide variety of physical properties. These properties include density, viscosity, kinematic viscosity, surface tension, and specific gravity. Specifications for petroleum and mineral oil products vary widely, depending on the specific product. The proper selection of a petroleum and mineral oil product must also take application requirements into account.
Applications
Petroleum products and mineral oil products include transmission fluids, power steering and brake fluids, bearing and gear oils, compressor oils, heat transfer fluids, industrial cleaners, rock drill oils, saw guide oils, textile oils, transformer oils, cutting oils, rust inhibitors, way lubricants, and journal oils. Anti-freeze can also be a petroleum and mineral oil product. Low-foaming or non-foaming petroleum and mineral oil contains additives that break out the entrained air. Entrained air can cause pump damage due to cavitation. Foaming can also reduce the cooling ability and the bulk modulus (or stiffness) of the fluid.
Standards
The International Standards Organization (ISO) maintains standards for petroleum products and mineral oil products. For the petroleum and mineral oil industry, ISO works in partnership with the American Petroleum Industry (API) to internationalize standards. The American Society for Testing and Minerals (ASTM International) Committee D02 also maintains standards for petroleum and mineral oil products, many of which conform to ISO standards.