Polyvinyl chloride, typically called PVC, is a brittle, solid plastic used in a wide range of applications and environments. It is comprised of strong linear polymers produced as a result of polyermizing vinyl chloride. While PVC is structurally similar to polyethylene, it has vastly different qualities and properties due to the presence of chlorine in its molecular makeup.
As a lightweight, inexpensive, and environmentally-resistant plastic, PVC is used in construction (for pipes, window frames, and other components) as a replacement for wood and other more traditional building materials. With the addition of plasticizers, PVC becomes more flexible and is suitable for use in electrical cable insulation, inflatable products and many applications in which it replaces elastomers.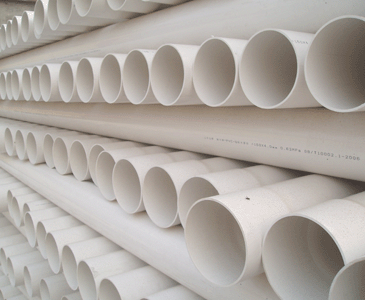 Plastic pipe is one of the most common uses for PVC resins.
Image credit: Total Source