Flange Mounted Bearings Information

Show all Flange Mounted Bearings Manufacturers
Description
Flange mounted bearings provide a method of accurately mounting fitting and load supports. The devices are used when a shaft axis is perpendicular to the bearing mounting surface.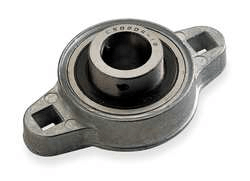 Flange Unit: 4-Blot. Mounted Ball Bearing: 2-Bolt Flange Unit: 3- Blot
Image Credit: Emerson Bearing Image Credit: Grainger Image Credit: Applied
Bearings allow for smooth, low-friction movement between two surfaces. Flange mounted bearings are used for rotary or linear movements when the shaft and mount are perpendicular to each other. There are several types of flange mounted configurations and bearings. Each has various subtypes. As described below, the way a flange mounted bearing works depends upon these characteristics.
Product Selection
The GlobalSpec SpecSearch database allows industrial buyers to select flange mounted bearings by type of bearing, type of gear, winch size, drum size, line type, brake type, performance specifications, power options, duty cycle, product options and additional features.
Bearing type
There are four bearing types related to flange mounted bearings. Each type functions in a unique way as described below.
Ball bearings have a ball as the rolling element. They are used to provide smooth, low friction motion in rotary applications. Construction consists of an inner and outer ring, balls, and usually a cage or ball separator.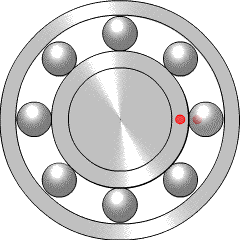 Ball Bearing Animation
Plain bearing and bushings / sleeve bearings, also called journal bearings, are used to constrain, guide, or reduce friction in linear applications. They work by means of sliding action as opposed to the rolling action used by ball, roller, and needle bearings.Lubrication is crucial to the operation of plain bearings. The application and function of the bearing is often referred to the type of lubrication used. The lubrication principles listed are designated for particular types of plain bearings.
Fluid film
Self-lubricated
Hydrostatic
Hydrodynamic
Needle roller bearings have a needle roller as the rolling element. They are similar to cylindrical roller bearings but have a smaller diameter-to-length ratio. By controlling the circumferential clearance between rollers, or needles, rolling elements are kept parallel to the shaft axis. Needle roller bearings are designed for radial load applications where a low profile is desired.
Needle Roller Bearing
Video Credit: WRL Advertising via YouTube
Roller bearings have a roller as the rolling element. They are used to provide smooth, low friction motion in rotary applications. Construction consists of an inner and outer ring, rollers, and usually a cage or roller separator. There are three principal types of roller bearings:
Cylindrical rollers have a slightly greater length than diameter.
Spherical is the most common type of flange mounted roller bearing. It is a self-aligning, double row, and combination radial and thrust bearing.
Tapered rollers use conical rollers that run on conical races. They can support both radial and axial loads as well as carry higher loads than ball bearings due to having greater contact area. They are usually more expensive.
Mounting Configurations:
Mounting configurations describe the shape of the bearing mount and how many holes are available for securing the bearing.
2-bolt

flanged bearings have a diamond shaped flange with 2 mounting holes.

3-bolt flanged bearings have a circular mounting flange with three, equally spaced mounting holes. Other hole configurations, such as anoffset pattern, arealso available.
4-bolt

flanged bearings have a squareor round mounting flange with four mounting holes.
Important dimensions
The size of the bearing is important to consider when making a selection.
Shaft size specifies the maximum diameter of the shaft or the bore diameter of the bearing.
Height above mounting surface is important to take into consideration for low clearance applications.
Overall height above mounting surface. Dimension "H"
Housing Material
Bearing housing protects the bearings during operation as well as providing a mechanism for the bearing to be secured while in use. Housing can be made from a variety of materials with different properties.
Cast iron refers to a family of materials whose major constituent is iron, with important trace amounts of carbon and silicon. Cast irons are natural composite materials whose properties are determined by their microstructures - the stable and metastable phases formed during solidification or subsequent heat treatment. The major microstructural constituents of cast irons are: the chemical and morphological forms taken by carbon, and the continuous metal matrix in which the carbon and/or carbide are dispersed.
Pressed steel is a low carbon steel, which has been pressed rather than machined.
Plastic refers to numerous organic, synthetic, or processed materials that are mostly thermoplastic or thermosetting polymers of high molecular weight and that can be made into objects, films, or filaments. Common plastic materials includeAcetal, Nylon / Polyamide and PTFE / Teflon.
Nylon,

comprising several grades of polyamides, is a general-purpose material in wide use; it is tough and resistant and has good pressure ratings.

PTFE

(polytetrafluoroethylene) is an insoluble compound that exhibits a high degree of chemical resistance and a low coefficient of friction. It is sometimes marketed in proprietary classes of materials such as Teflon®, a registered trademark of DuPont Dow Elastomers.

Acetal

polymers are semi-crystalline. They offer excellent inherent lubricity, fatigue resistance, and chemical resistance. Acetals suffer from outgassing problems at elevated temperatures, and are brittle at low temperatures. Glass filled, and added lubrication grades are available, flame-retardant grades are not. Brand names include Celcon® (Hoechst Celanese), Delrin® (Dupont), Thermocomp® (LNP), Ultraform® (BASF), and Acetron® (DSM Polymers).
Stainless steel is chemical and corrosion resistant and can have relatively high-pressure ratings.
Bearing Material
The material the bearing is made of has a significant effect on the performance of the bearing unit.
Aluminum has a high wear resistance, load-carrying capacity, fatigue strength, and thermal conductivity. Used extensively in connecting rods and main bearings in internal-combustion engines.
Steel

, A commercial iron that contains carbon in any amount up to about 1.7 percent as an essential alloying constituent. It is malleable when under suitable conditions, and is distinguished from cast iron by its malleability and lower carbon content.Bearings are usually made of high carbon steel such as 52100.

Stainless steel is chemical and corrosion resistant and can have relatively high pressure ratings.
Sintered metals are often called powdered-metal bearings. They are self-lubricating, simple, and low in cost. These bronze and copper alloys are porous materialsthat can be impregnated with oil, graphite, or PTFE. They are not suitable for heavily loaded applications, but are useful where lubrication is inconvenient.
Graphite-metal alloy has a bearing surface of an alloy manufactured from molten graphite and metal. This material is self-lubricating.
Plastic refers to any of numerous organic, synthetic, or processed materials that are mostly thermoplastic or thermosetting polymers of high molecular weight and that can be made into objects, films, or filaments. They do not require lubrication and their high strength lends to a variety of applications. Common plastic materials includeAcetal, Nylon / Polyamide and PTFE / Teflon.
Bearing and Housing Features
Offset Hole Pattern from the bearing centerline, as opposed to radially symmetrical around the axis of the bearing.
Spherical/ Self-aligning bearing come in two types: internal and external. Internal bearings have a grooved outer-ring that is ground as a spherical surface. In external bearings, the spherical surface is on the outside of the outer ring. This matches a concave spherical housing. These bearings allow for minor shaft / bearing misalignments.
Split Bearing housing and/or bearing is split into two pieces and bolted together.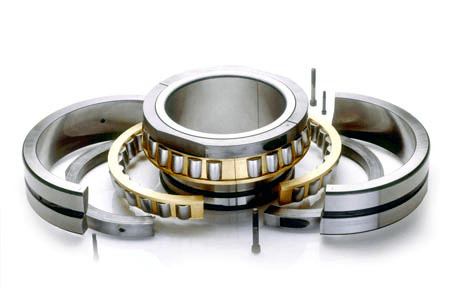 Split Roller Bearing. Image Credit: Hayley
Shaft Securing Method
Setscrew

bearings have setscrews for securing the inner ring to a shaft.
Setscrew Locking. Image Credit: ABT
Locking collar

bearings have a locknut for securingthe inner ring toa shaft.
Locking Collar. Image Credit: Baldor
No securing method bearings have no provisions forsecuring to a shaft.
Performance Specifications
There are many specifications to consider when selecting a flange mounted bearing.
Maximum speed is the high speed the bearing can safely function at before failure. It is influenced by load characteristics, bearing lubrication, and temperature.
Bearing life, also known as the rating life L10, is a statistical measure of the life which 90% of a group of apparently identical ball bearings will achieve or exceed. For a single bearing L10 also refers to the life associated with 90% reliability. Median Life, L50, is the life which 50% of the group of ball bearings will achieve or exceed. Median life is usually not greater than five times the rating life.

Bearing loads are a combination of radial loads and thrust forces. If the bearing is required to absorbed thrust forces in additional to radial loads, the following considerations much be made concerning the magnitude of the thrust force.

When the thrust loads are half of the radial load, the selection should be made based upon the applied radial load.
When thrust loads are equal to or greater than half of the radial load, the selection should be made based upon using the total load (radial and thrust loads together) as the equivalent applied radial load.
The basic dynamic load rating, C, or "dynamic capacity," for a ball bearing is a calculated, constant radial load. The load is applied to identical bearings with a stationary outer ring for one million revolutions of the inner ring.
The basic static load rating, CO, or "static capacity," is that uniformly distributed load. The load produces a maximum theoretical contact stress on the most heavily loaded ball of 609,000 psi. At this contact stress a permanent deformation of ball and raceway occurs. This deformation is approximately 0.01% of the ball diameter in inches.
The relationship between rating life, load rating and load is:
L10 = (C/P)3
L10 = rating life (106 rev)
C = basic load rating (lb)
P = equivalent radial load (lb)
To obtain the rating life in hours,
L10 hrs. = 16667/N * (C/P)3
N = speed (rpm)
The Equivalent Radial Load
P = XFr + YFa
Fr = radial load (lb)
Fa = axial load (lb)
X = see table below
Y = see table below
For radial contact ball bearings, calculate P with X = 1.0 and Y=1.0. Then recalculate P with X = 0.56 and Y from the chart below. Use the larger value of P to determine L10 life.
| | |
| --- | --- |
| Fa / nd2 | Y |
| 25 | 2.30 |
| 50 | 1.99 |
| 100 | 1.71 |
| 150 | 1.55 |
| 200 | 1.45 |
| 300 | 1.31 |
| 500 | 1.15 |
| 750 | 1.04 |
| 1000 | 1.00 |
with n = number of balls
d = diameter of balls

Engineering load data describes the effect of reaction loads on the bearings. Reaction loads are caused by forces acting on the shaft supported by the bearings. These forces are a result of the weight of the shafting and components mounted on the shafting, bending loads due to belt or chain pull, gear reaction loads, and off center or unbalanced loads. All the loads must be combined into a single resultant load of known magnitude and direction for each bearing. The magnitude and direction of the load can be calculated by taking the moment about the other bearing.
Operating Temperature is determined by the bearing cage, seal and grease material. When operating at high temperatures (excess of 300°F), grease may purge between the seal lip and the bearing inner ring.
Lubrication
As in all bearings, proper lubrication is required to reduce wear and friction. Commercial lubricants are grouped into three generic types: greases, oils and solid films. Lubrication choices include manual lubrication and self-lubricating.
Manual Lubrication requires a pump or agrease fitting mounted onthe housing to deliver lubrication to the friction points of the bearing.
Self- lubricating bearings are constructed of a material such as oil-impregnated bronze, or graphite / metal alloy that does not require external lubrication.
Resources
Read user Insights about Flange Mounted Bearings
---
Related Products & Services