Control Panels Information
Control panels are flat areas used to connect and display control instruments and monitoring equipment. They are often custom designed for specific applications.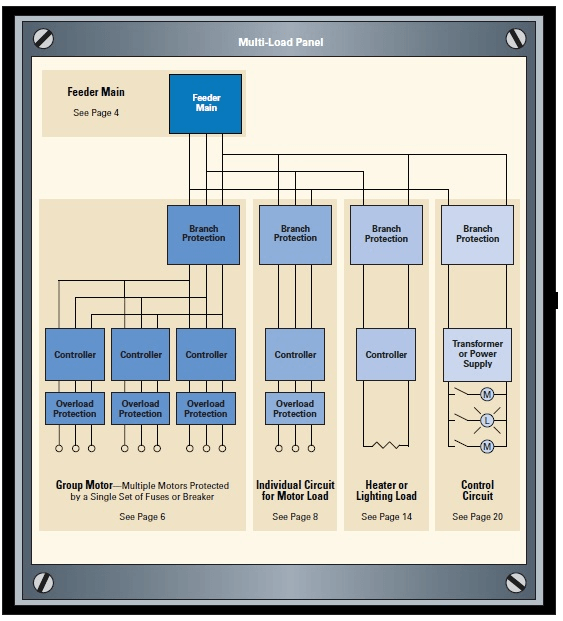 Design
Control panels consist of an enclosure populated by components—including a power source, circuit breakers, transformers, controllers, and switches—used to control processes or machinery. They may also include displays in the form of light-emitting diode (LED) indicators, analog gauges, or numerical readouts.
Control panels are manufactured according to their intended use and operating environment and are therefore custom designed. Common applications include audio control and mixing, power control, motor control, and access control. Fire alarm control panels, which connect and control detectors, alarms, and suppression systems, are often standard products but may be custom built as well.
The image at right shows a typical motor control panel layout. This particular panel was designed using the UL 508A standard described in detail below.
Standards
Control panels are typically designed and manufactured with the guidance of published standards due to the hazards inherent in electricity use and environmental contaminants.
NEC Article 409
Article 409 of the U.S. National Electrical Code (NEC) describes minimum safety requirements for industrial control panels. This section covers the following design considerations:
Enclosure sizing, spacing, and rating

Electrical supply ratings

Short circuit current ratings (409.110 requires proper labeling of SCCR ratings on all components)

Overcurrent protection

Grounding/bonding

Workmanship and organization (neat wire bundles, labeling, smooth routing)
UL 508A
UL 508A contains guidelines similar to those listed in NEC Article 409. This standard includes recommendations for protection of individual control circuits, maximum permitted loads, proper internal and external wiring, and display location.
NEMA
The National Electrical Manufacturers Association (NEMA) standard 250 specifies various electrical enclosure grades as listed in the table below; cells marked with an [x] indicate an enclosure's resistance to the corresponding condition. NEMA ratings for control panels must be carefully considered with respect to the contaminants expected to be present in the panel's environment.
Conditions

Enclosure Type

1

2

4

4X

5

6

6P

12

12K

13

Access to hazardous parts

x

x

x

x

x

x

x

x

x

x

Falling dirt

x

x

x

x

x

x

x

x

x

x

Dripping water

x

x

x

x

x

x

x

x

x

Circulating dust, lint, fibers

x

x

x

x

x

x

x

Settling dust, lint, fibers

x

x

x

x

x

x

x

x

Splashing water

x

x

x

x

Corrosives

x

x

Oil/coolant seepage

x

x

x

Spraying/splashing oil

x

Temporary submersion in water

x

x

Prolonged submersion

x
References
NEMA - Enclosure Types
Image credit:
Klockner.Moeller | R. STAHL, Inc.