Technical Training Equipment Information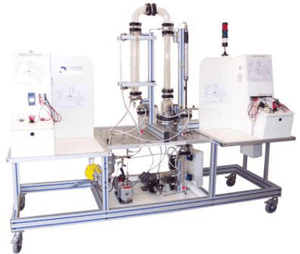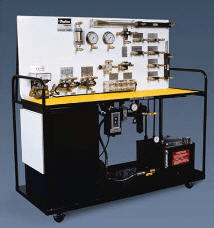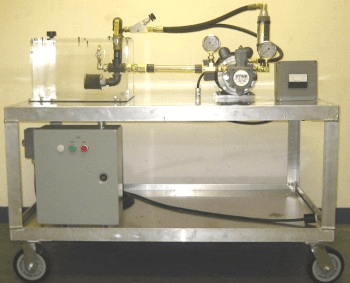 Controlling continuous processes. Motion control training equipment. Hydraulic pump demonstrator.
Image Credit: Geneq | Parker | TC Trainers Co., Inc.
Technical training equipment is used to instruct technicians on the operation of vacuum, semiconductor fabrication, pneumatic, hydraulic, fluid process, electromechanical, energy power generation, automation, optics, physics, chemistry and thermodynamic systems.


Types of Technical Training Equipment
Technical training covers a wide variety of processes and it is critical that technicians have a complete understanding of the process in order to ensure safe and efficient operation. The type of technical training equipment can include:
Demonstrators- Demonstrators are used to show how a process, technology, scientific principle should work. A cut-away pump, clear plastic engines or other training models are examples for demonstrators.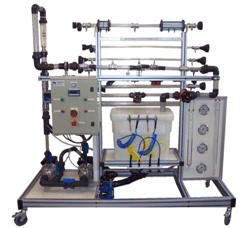 Fluid mechanics and pumps units. Image Credit: Geneq Inc.
Experiments - Technical training experiments allow students to explore how variations in process or system parameters affect performance or output. The product consists of the materials, parts and equipment required to perform the experiment.
Kits / modular units- Technical training kits consist of equipment, parts, and/ or materials such as pumps, motors, actuators, valves, fasteners, fittings, fluids, etc. that are kitted together for assembly, experimentation and learning exercises.
Simulators - Simulators do not physically perform the process, but provide a virtual version of the process, technology or scientific principle. Simulators allow students to interact and react to changes in system parameters.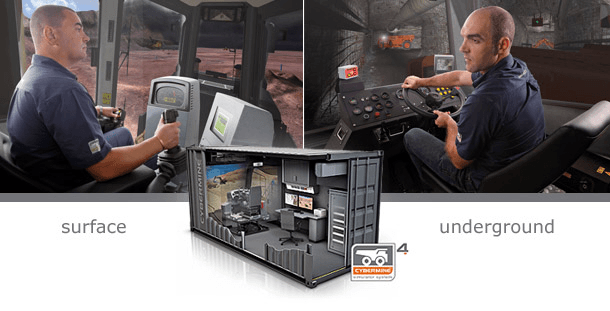 Mining simulator. Image Credit: Thoroughtec
Training benches- Technical training benches consist of a series of components and sub-systems pre-mounted on a workbench.
Training laboratories - Training laboratories allow students to perform multiple laboratory exercises and can demonstrate many different processes, technologies, and scientific principles.
Motor Control Mobile Lab. Image Credit: LabVoltLtd./ CC BY 3.0
Training manuals / plans - Manuals, training guides and training system plans provide a list of the required components and sub-systems that can be purchased and assembled to provide a complete training system. Training system can be modified to suit the specific OEM needs.
Technical Fields and Engineering Subjects
Technical trainers, simulators, training kits and complete laboratories are available for a variety of technologies, subjects and disciplines such as:
| | |
| --- | --- |
| Technical Fields and Engineering Subjects | |
| Aerospace / Flight | Machining & Manufacturing |
| Automation & Robotics | Maintenance / Repair |
| Automotive Systems | Marine / Piloting |
| Biofuel / Biomass | Materials |
| Biological / Biotech | Microcontrollers & DSP |
| Chemical / Process Engineering (Unit Operations) | Mechanics / Statics & Dynamics |
| Chemistry | Mechatronics & Automation |
| Communications | Military / Firearms |
| Instrumentation & Control (Sensors, PLC, PID) | Mining |
| Data Acquisition / Data Loggers | Navigation / GIS & GPS |
| Electricity / Electric Power | Nondestructive Testing / PdM |
| Electromagnetism / Fields & Waves | Optics / Photonics |
| Electromechanical / Machine & Drives | Physics |
| Electronics / Analog & Digital Circuits | Pneumatics |
| EMS / Firefighter | Police / Law Enforcement |
| Energy | PRE-ENGINEERING |
| Environmental / Ecology | Process Control |
| Fluid Mechanics / Aerodynamics | Rail / Mass Transit |
| Food & Water Technologies | Safety / Heath |
| Fuel Cells / Batteries | Semiconductor Fab |
| Geology / Earth Science | Solar / Photovoltaic |
| Heat Transfer | Telecommunications |
| HVAC / Refrigeration | Thermodynamics / Thermotechnics |
| Hydraulics | Vibrations / Balancing & Dampening |
| HYDROLOGY | Welding |
| Information Technology | Special / Other Technologies |
| Lean / Quality | |