Hospital Beds Information
Hospital beds are beds specially designed for hospital patients or for people in need of some form of healthcare. They have special features both for the well-being and comfort of the patient as well as convenience for healthcare workers.
Most modern hospital beds feature integral electronics to adjust the position of the patient, summon healthcare staff, and monitor patient conditions. Almost all beds have integral wheels and foldable side rails for ease of patient transport.
Specialized beds are produced for unique applications: bariatric beds, which are specially reinforced to accommodate more weight; standing beds, for patients with spinal or back injuries; and legacy beds, for patients with severe trauma or spinal injuries.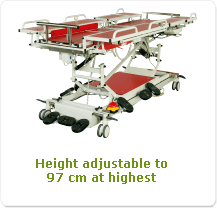 A typical hospital bed (left) and a legacy trauma bed.
Image credit: Hospital Beds on Hire | Nexus DMS