Catwalk Machines (CWM) Information
Catwalk machines (CWM) are pipe handling systems that are used to transport tubular goods and ancillary equipment to and from the drill floor. CWMs automate pipe handling operations in order to mitigate manual handling when adding sections of pipe to the drill string. As such, they are one of several equipment types used to carry out pipe handling operations.
Catwalk machines may be specified by the range of pipe sizes accommodated and load-handling capacity. They are often custom-built to the specifications of the oil rig for which they are intended. Whereas the use of CWMs increases total upstream costs, they are primarily used to improve drilling efficiency and reduce occupational hazards, both of which result in cost savings and increased safety.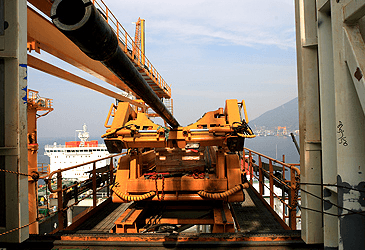 A catwalk machine transporting a section of pipe.
Image credit: NOV