Sucker Rods Information
Sucker rods are used to connect the surface pumping unit to the downhole components of a pumping system in an oil and gas well. They are typically steel rods 25 to 30 feet in length, but fiberglass rods and differing lengths are manufactured. The first string attached to the pumping unit is a polished rod that reciprocates through a stuffing box providing a liquid-tight seal. Shorter sections of sucker rods referred to as 'pony rods' are used to assemble the rod string to its required overall length.
Sucker rods are threaded on both ends and commonly conform to industry standards as specified by the American Petroleum Industry (API). While fiberglass rods are lighter, stronger, and non-corrosive, steel rods are tempered and alloyed to improve their hardness and strength. Sucker rods conforming to API standards, such as API Spec11B, may be described by their class and grade, such as grades C, D, K, and H.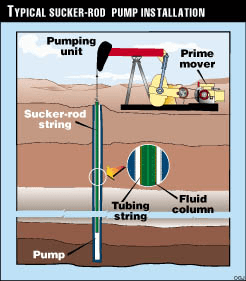 Image credit: Oil and Gas Journal; TDES