Fuel Injectors Information

Show all Fuel Injectors Manufacturers
Description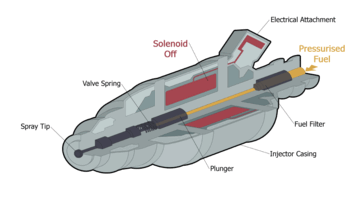 Fuel injectors are electronically controlled devices that dispense a fuel mist into a combustion engine.
When the plunger in a fuel injector rises, a valve is opened, and the fuel is sent through the spray tip either into the intake manifold, or directly into the engine's cylinder.
Fuel injectors can deliver precise amounts of fuel at specified time intervals.
Types
Top-Feed: Fuel enters from the in the top and exits the bottom.
Side-Feed: Fuel enters on the side on the injector fitting inside the fuel rail.
Throttle Body Injectors: Located directly in the throttle body.
Standards
AD 73-10-02 - Fuel injection systems
AD 89-13-02 - Fuel injector unit
ISO 15500-7 - Road vehicles - Fuel system components - Gas injector
References
Image Credit: