From
Optical Shop Testing
2.4.1. Testing of Prisms and Diffraction Rulings

The Twyman–Green interferometer is a very useful instrument for testing prisms. Its
application for testing the accuracy of the 90o angle between two of the faces of a
right angle (Porro) prism, a roof (Amici) prism, or a cube corner prism is especially
interesting. As explained before, the relative rotation or reversal of the wavefronts
should be corrected, as shown in Figure 2.16, if a gas laser is not used. The
arrangements in Figure 2.17 can be used when a gas laser source is employed.

A very good cube corner prism will give rise to an interferogram like that shown in
Figure 2.18. The fringes are straight throughout the aperture. A cube comer prism
with angular errors produces an interferogram such as that shown in Figure 2.19, in
which the straight fringes abruptly change their direction. Thomas and Wyant (1977)
made a complete study of the testing of cube corner prisms.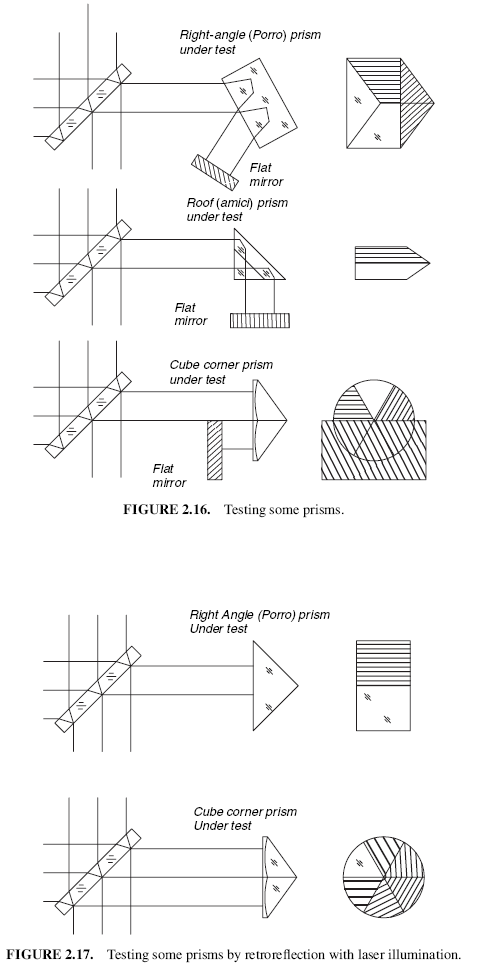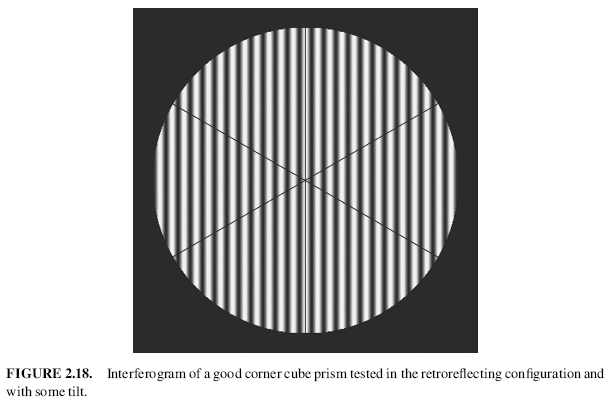 Figures 2.20 and 2.21 show similar situations for a right-angle prism of no error
and of some angular error, respectively. If, in addition to angle errors, the surfaces are
not flat or the glass is not homogeneous, an interferogram with...
More >>
© 2007
---
Products & Services
---
Topics of Interest