From
An Introduction to Mixed-Signal IC Test and Measurement
13.1

DIB BASICS
13.1.1

Purpose of a Device Interface Board

On any given day, a general-purpose ATE tester may be required to test a wide variety of device types. A mixed-signal tester may test video converters in the morning, modem chips in the afternoon, and standalone ADCs in the evening. Obviously, the electrical testing requirements of each type of device are unique to that device. Also, the mechanical requirements of each device are unique. The tester's various electrical resources must be connected to each of the DUT's pins, regardless of the mechanical configuration of the DUT package. For example, an 8-bit DAC might be available in several different packages such as the small outline IC (SOIC), quad flat pack (QFP), and leadless chip carrier (LCC). These package types are illustrated in Figure 13.1. Also, the tester needs to be connected to the bare die during wafer probing. Clearly, a general-purpose tester cannot be expected to provide all electrical resources and mechanical fixtures to test any arbitrary device type in any package.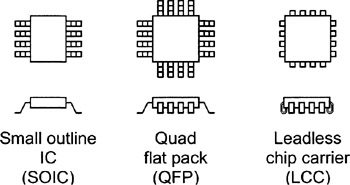 Figure 13.1:

Common IC package types.
The device interface board (DIB) provides a means of customizing the general-purpose tester to specific DUTs and families of DUTs. The DIB serves two main purposes. First, it gives the test engineer a place to mount DUT-specific circuitry that is not available in the ATE tester. This circuitry can be placed near the DUT to enhance electrical performance during critical tests. Second, the DIB provides a temporary electrical interface to each DUT during...
Copyright Texas Instruments, Incorporated 2001 under license agreement with Books24x7
---
Products & Services
---
Topics of Interest