From
Fluid Handling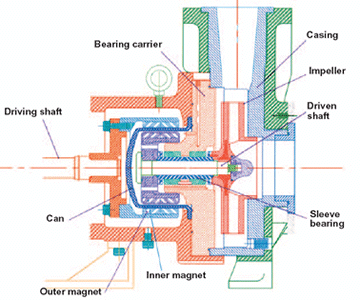 Heightened awareness of environmental, safety and maintenance issues in the last few years has made process-fluid leakage a paramount concern throughout the chemical process industries (CPI). Sealless pumps are becoming the often-preferred choice for pumping hazardous and toxic fluids because of their ability to prevent or minimize leakage problems. After years of being considered expensive niche products for specialty applications, sealless pumps are finally entering the limelight.
Significant trends in pump design, with respect to the handling of corrosive fluids, point to the use of sealless configurations to minimize leakage, and the specification of nonmetallic, chemically inert materials of construction to ensure resistance to acids, caustics, salts and other aggressive fluids. To pick the optimum sealless pump for an application, one must become familiar with the technical and economic issues involved in the pump-selection process, the available pump types, and the various nonmetallic materials that are suitable for the service.
Defining a sealless pump
The Hydraulic Institute (Parsippany, N.J.) defines a sealless pump as one in which the impeller shaft is completely contained in a sealed, pressurized vessel (called the containment shell) that contains the process fluid. Leakage of the pump fluid into the surrounding environment is prevented by the...
More >>
© 2013 Chemical Engineering
---
Products & Services
---
Topics of Interest