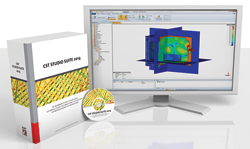 Founded in 1992, CST offers the market's widest range of 3D electromagnetic field simulation tools through a global network of sales and support staff and representatives. CST develops high-performance software for the simulation of electromagnetic fields in all frequency bands as part of CST STUDIO SUITE®, and also sells and supports complementary third-party products.
With both general purpose and specialized solvers available, CST's products can be used in applications across the electromagnetic spectrum and suit many industrial work flows. CST's Complete Technology approach allows its products to complement each other, thus offering greater accuracy, versatility, and usability.
CST's customers are market leaders in industries as diverse as telecommunications, defense, automotive, electronics and healthcare. Today, the company enjoys a leading position in the high-frequency 3D EM simulation market and employs 240 sales, development, and support personnel around the world.
The Foundation of CST's Success
CST's success is based on combination of leading edge technology, a user-friendly interface and knowledgeable support staff.
Since the launch of the first version of CST MICROWAVE STUDIO® in 1998, which introduced the PERFECT BOUNDARY APPROXIMATION (PBA)®, CST has been continuously developing and refining its solvers, post-processors and GUIs to maintain its position as a leader in electromagnetic simulation.
CST works with partners around the world to link and integrate its products with other design and engineering tools. CST also distributes and supports several third-party products which complement customer work flows.
CST provides timely local support through its highly qualified technical support forces. Together with its committed distributors and representatives, CST supports its EM products in over 30 countries.