About
THE ADVANCED PROTECTION TECHNOLOGIES (APT) STORY:

ASK THE TVSS EXPERTS
Advanced Protection Technologies, Inc. (APT) has evolved into a leader in the Transient Voltage Surge Suppression (TVSS) industry since their inception in 1985. Located in Clearwater, Florida, USA, they have grown from a regional operation into a global manufacturer. APT manufactures a complete line of products for medium voltage, low voltage, data/communications, din rail and residential applications.
APT's historical markets have been the new construction bid market and the OEM private label market. In the past 15 years they have sold to OEM private label clients over $200,000,000 of products. Their major private label relationships include, or have included, Square D Company, Schneider Electric, Siemens Energy & Automation and American Power Conversions. Three times in recent years, APT has been awarded the "Market Engineering Customer Focus Award" from Frost and Sullivan which recognizes their customer support expertise. In 1999, Power Quality Assurance magazine rated APT as the number one supplier of three phase TVSS devices and ranked APT as a top 50 power quality company.
APT's specialty is hardwired TVSS, also referred to as Surge Protective Devices, or SPD's, that connect to electrical distribution gear in single, two pole, and three phase power systems. Typically, a TVSS connects via a breaker and protects the entire load fed from that panel. Most TVSS are comprised of Metal Oxide Varistors (MOVs) and capacitive EMI/RFI noise filters. All APT surge protection products are designed, manufactured and tested to IEEE standards C62.41.1-2002, C62.41.2-2002 and C62.45-2002. UL 1449 is an important safety and performance standard.
APT'S MARKETS


APT participates in a number of market segments and has developed products and services specific to those markets. APT's traditional market has been the U.S. new construction, bid market. They electronically store plans and specifications on projects across the USA and use a customized job & contact management database to access current and historical data allowing them to provide a significant advantage in service over a traditional manufacturer's rep organization. Over the years APT has developed long-term brand label relationships with a number of leaders in the electrical equipment industry. Key relationships have included Siemens, Square D/Schneider Electric and American Power Conversions. They also sell APT branded products to other industry leaders including GE, Cutler-Hammer, ABB and Rockwell/Allen-Bradley on a project by project basis. APT's growing International Sales division has developed strong relationships in Mexico, Central America, South America, Asia and Africa.

SurgTec is the Industrial Products and Services division of APT. Focusing on the Oil & Gas, Water/Wastewater and Mining Industries, SurgTec™ products are designed to protect sensitive loads in harsh industrial environments where maximization of run-times is critical. APT offers a full range of Medium Voltage (1000V to 4160V) Transient Voltage Protective Devices (TVPD's) and Low Voltage (up to 600V) Surge Protective Devices (SPD's) and work closely with their customers to gain a complete understanding of the many problems they face and develop cost effective solutions. Their patent pending STMT Medium Voltage Multi-Tap Transient Voltage Protective Device (TVPD) is a design that is completely unique in the surge protection industry and is designed to save operators and owners considerable expense and logistical headaches.

Surgeassure™ is the Residential Products Division of APT. They offer a line of products that utilize the same technology and ruggedness used in their industrial & commercial products. APT has developed long-term relationships with a number of industry leaders, such as Home Depot, MetLife Auto & Home, Ryland Homes and contractor groups such as Mr. Electric, to promote the benefits of Whole House Protection to homeowners.
APT'S PEOPLE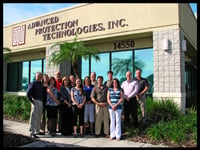 The attitude of APT's people, from their engineers to their support staff, is one of a caring and knowledgeable professional. APT understands their industry, their products and most importantly, how to meet your needs. APT employees work to provide the right solution at the right time and within budget. They assign support of each market segment to a dedicated, experienced team, consisting of engineers, salespeople and customer support staff, whose goal is to assist the customer with any TVSS related issue. Whether dealing with design engineers, contractors, the supply chain, their OEM partners or the end user, APT's goal is to build long term mutually productive relationships through their commitment to service.
APT'S EXPERTISE
Surge suppression is APT's business. They are completely focused on the TVSS marketplace. They understand industry standards and regulations and can help you make sense of this information so you make informed and responsible choices. Their participation within these standards organizations allows them a fine tuned understanding of their industry. APT Engineers are active in all industry standards committees including Underwriters Laboratories (UL), IEEE and NEMA.
APT'S QUALITY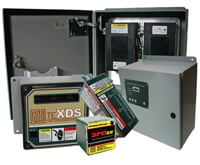 APT's quality system is based on the closed-loop process approach espoused by ISO9001:2000. A central part of their quality management revolves around the Product Development Process (PDP) and Product Change Process (PCP) ensuring that customer, regulatory, and internal requirements are integrated into the product realization process, and further integrate into the management review process establishing customer satisfaction and systematic continuous improvement.
To support testing and measurement requirements of the PDP and throughout the product realization process, APT utilizes internal and external test facilities, and ensures attainment of regulatory requirements through various programs with appropriate regulatory agencies. Their internal test facility includes state-of-the-art data acquisition and instrumentation certified with traceability to the US National Institute of Standards and Technology.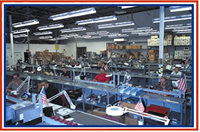 APT'S CAPABILITY
APT's manufacturing capabilities include strong in-house manual assembly, test, warehousing, and delivery competencies. In addition, high volume and automated assembly is accomplished by partnerships with several key ISO9000 certified state-of-the-art contract manufacturers. All production is controlled through an integrated system of custom developed ISO9001:2000 software and Best Software's MAS200 manufacturing, inventory, and accounting system. Production controls follow ISO standards and are implemented with work orders, travelers, manufacturing and process instructions, training, and a corrective and preventive action program to ensure highest quality and continuous improvement.
APT'S COMMITMENT
APT's service is supported by strategic investments in people, product technologies, and information management tools to serve their clients with a long term commitment through actions, not words alone. They use information systems and technologies to keep their clients informed and deliver quality solutions while pursuing their long term commitment, in place of short term gains. APT values the client relationship and support it with integrity, responsiveness, and technical excellence.

Supplier Directory Categories
Advanced Protection Technologies, Inc. is also listed in these categories:
Technical Articles