About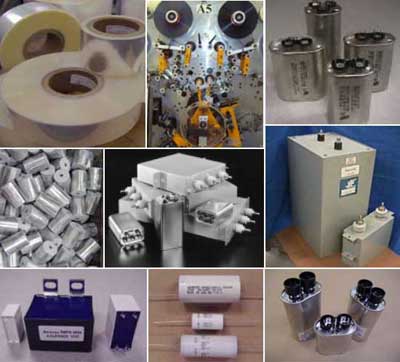 Aerovox is a leading Global manufacturer of AC and DC rated film capacitors for HID Lighting, Motor Run, IGBT Snubber, Power Factor, Defibrillator, Microwave Oven, Power Conversion, and High Energy Discharge Pulse Power applications. Manufacturing operations are located in New Bedford, MA USA and Ningbo, China.
Aerovox capacitors range from .001 to 30,000 microfarads in AC voltage ranges from 120 VAC to over 50,000 VDC. Case styles include industry standard oil-filled metal cases (oval & round), dry round and rectangular plastic cases, axial-lead "wrap & fill," and custom cases for customer specific requirements.
Popular applications of Aerovox capacitors include: Alternative Energy Inverters and Converters, HID lighting fixtures, air-conditioning, fans, electric motors, pumps, compressors, power factor correction (PFC), energy discharge capacitors (EDC), filtering, power supplies, fluorescent light ballasts, sign & neon light ballasts, commercial battery chargers, microwave ovens, strobe-lights, heart defibrillators, IGBT snubbers, electrical equipment, and UPS systems.
Aerovox products are designed, manufactured, and tested using state-of-the-art technologies along with computer integrated manufacturing systems. Accelerated life testing (ALT) programs at Aerovox total over 500 million component test hours annually, and each Aerovox capacitor is electrically tested prior to shipment. Aerovox capacitors are among the world's most reliable components. Materials in Aerovox capacitors are from certified suppliers with quality programs in partnership with Aerovox.
Aerovox quality assurance programs control all operational functions from management through product design, manufacturing, supply-chains, inspection, testing, warehousing and customer service.
Aerovox capacitors are sold worldwide directly from New Bedford and through several sales representatives. Contact Aerovox for related details.

Product Catalog
Technical Articles