About
Since 1985, Alignment Supplies, Inc. has served the rotating machinery industry with a complete line of alignment-related products for shaft and machinery alignment. Alignment Supplies, Inc. has the experience, resources, and equipment to address any alignment and measurement need.

Alignment Supplies, Inc. is the US Master Distributor for the B.A.T. Belt Alignment Tool® and distributor of the Stealth Series™ Laser Shaft alignment solutions and has more than twenty five years of experience in measurement and alignment in virtually every industry. This experience goes into every system, making them affordable, professional, and easy-to-use alignment products available.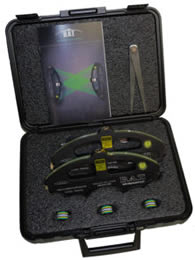 The B.A.T. Belt Alignment Tool® is proven to be the best tool for belt alignment. Our patented system uses 2 green lasers with brilliant GlowLine® targets. With 2 lasers the offset and angularity solution is instant and easily corrected in one move! No need waste valuable time swapping the laser and targets to re-measure over and over as with other tools.
Alignment Supplies, Inc. is a total resource for all of your alignment needs - including The B.A.T. Belt Alignment Tool® and Stealth Series™ alignment systems, shims, bearing heaters, motor movers, undercut bolts, and more! "We Make it Easy!" ™
Supplier Directory Categories
Alignment Supplies, Inc. is listed in these categories: