About
ARMEX® is a baking soda based (sodium bicarbonate, NaHCO3) media manufactured by the makers of ARM & HAMMER® Products. There are over a dozen formulations designed to meet specific surface preparation requirements.
Why ARMEX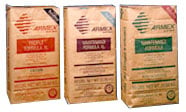 ?
ARMEX® Cleaning and Coating Removal Systems is the industry's leading baking soda-based abrasive technology.


Use it to clean, de-paint and degrease a wide variety of substrates including glass.


ARMEX® is delivered using either compressed air or water.
ARMEX® has a network of authorized distributors worldwide that sell portable and contained soda-blasting equipment systems, parts and accessories as well as the full line of ARMEX® Blast Media Formulas. Soda-blasting distributors can be found here.

Product Catalog
Technical Articles