Profile Home
Supplier:
Cly-Del Manufacturing Company

About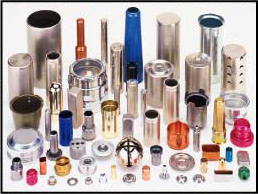 Cly-Del is a metal goods manufacturer, specializing in precision high volume drawn shells, metal stamping, eyelets, and ferrules.
We have over 250 high-speed U.S. Baird, Platarg, Waterbury Farrel, Bruderer, Haulick-Roos, and Minster presses are supported by in-house engineering, tool design, and tool construction.
"Ship-to-stock" reliability is through Statistical Process Control (SPC), providing total lot control and full traceability.
All ferrous, aluminum, copper, and clad metal are processed in required size, shape, plus special option and finish.
Specialties include: production of battery cans and component parts, pen and pencil parts, ammunition component parts, electronic parts, specialty hardware/appliance parts, and jingle bells for the craft industry.

Product Catalog
Cly-Del Manufacturing Company is listed in these categories: