Profile Home
Supplier:
DEPRAG, Inc.

About
DEPRAG is an assembly equipment manufacturer with 80 years of experience. The corporate headquarter is located in Amberg, Germany where over 350 active staff members design, manufacture and distribute handheld air tools, feeding and assembly systems. DEPRAG's worldwide net covers over 50 countries, with subsidiary locations in the Czech Republic, China, France, Sweden, United Kingdom and the USA.
The North American subsidiary, DEPRAG USA, is located outside of Dallas, Texas, providing Mexico, Canada and the Continental US with quality screwdriving equipment and excellent service. DEPRAG USA just celebrated its 30th anniversary in 2011.
DEPRAG stands for Durability, Ergonomics, Precision, Reliability, Accuracy and Global Presence.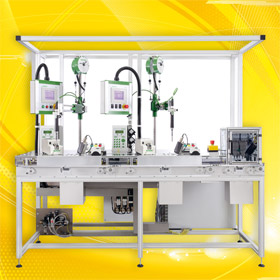 Product Listing

Pneumatic Screwdrivers (Handheld and Stationary)
Many Customized Tools for Critical Assembly Requirements

EC-Electric Screwdrivers (Handheld and Stationary)
Feeders for Threaded- and Non-Threaded Components and Fasteners
Automatic Assembly Machines (Turnkey or as Components)
Industrial Power Tools (Grinders, Drills, Polishers, Hammers, Etc.)
Air Motors (Standard and Stainless-Steel Models)
Many Motors Made According to Customers' Specification and
Private-Labeled

Product Catalog
DEPRAG, Inc. is listed in these service categories:
Technical Articles