Profile Home
Supplier:
Dataforth Corporation

About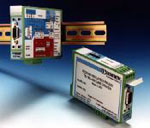 Dataforth Corporation is a worldwide leader in the design and manufacture of signal conditioning and data communications products for industrial and institutional markets. The Company offers a broad range of panel-mounted and DIN-mounted analog and digital I/O modules; industrial "limited distance" modems and modem systems; and a complete selection of cables and accessories. Customers depend on the high performance and reliability of the Company's products to maintain the integrity of measurement and control signals, computers, and peripherals within harsh electrical environments. In the final analysis, these critical components operate to protect the large investments made by Original Equipment Manufacturers and End-Users in their higher-level industrial automation and process control products and systems.
Dataforth Corporation was established in 1984 as an 'intrapreneurial' venture by the Burr-Brown Corporation, one of the most experienced and innovative international producers of analog integrated circuits and related products. It was organized to exploit profitable opportunities in large, fast-growing factory automation markets. According to Lee Payne, co-founder and President, "It is our mission at Dataforth Corporation to design, manufacture, and market field-mounted electronic instrumentation devices and associated data communications products. Our goal is to set new standards for product quality and performance and for customer service."

Product Catalog
Technical Articles