About

Affordable 3D printing right in your office

Dimension 3D printers accelerate your design projects, reduce costs and help you deliver more innovative products. Dimension printers can turn virtually anything you design with CAD software into functional 3D models. Dimension's product line includes the proven Elite and 1200es 3D printers, as well as the new uPrint Personal 3D printer – priced under $15,000 USD.


Discuss and test your ideas with durable ABSplus models
Which is the more powerful way to convey your ideas: Present a flat drawing, or pass around a 3D model that everyone can examine from every angle? Dimension printers are ideal for printing 3D models that help determine form, fit and function - everything from ergonomics to manufacturing processes. When it's time to test your concepts, Dimension printers produce 3D models in durable ABSplus that stand up to functional testing under real-world conditions.


Find your local dealer



Request a free part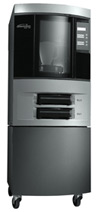 Accelerate your designs from CAD to production
A Dimension 3D printer can help you conquer deadline pressures and speed your project to conclusion. It turns drawings into models faster than you'd expect, which easily integrates 3D printing into your work routine. Every Dimension 3D Printer comes with a Catalyst software license, which automatically prepares your CAD files for 3D printing. All you have to do is click "print".

For more information, visit Dimension 3D Printers online at www.dimensionprinting.com.

Supplier Directory Categories
Dimension 3D Printers by Stratasys is listed in these categories:
Technical Articles

3D Printer Dimensional Accuracy Benchmark
(Industrial and Engineering Software)
The blend of low cost and ease-of-use has fuelled rapid growth for 3D printers. Designers, engineers and educators have adopted this technology in record numbers, making it the fastest growing segment... (
View Full Article
)