About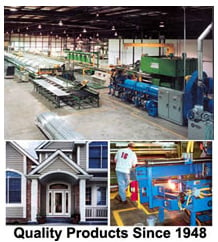 Since its humble beginnings in 1948 Elixir Industries has grown into a manufacturing giant that today includes two million square feet of production space and 1300 employees spread out at one of 17 divisions nationwide. Although Elixir first began as a paint and lacquer company, today Elixir Industries represents a growth through the years that can be attributed to its commitment to quality, and innovation of products to service its customers' needs.

The vision of service and quality Roland Sahm started with has been the guiding force that has sustained Elixir for all these years. Elixir continues to grow into a stable, diversified, quality-driven industry leader. They focus on mutually beneficial partnering with their vendors and customers, always exhibiting a "can-do" attitude. This assures that they will continue to successfully exceed the quality and service levels their customers have come to rely on.

With a seasoned management team leading 1300 employees among production/warehouse and administration support units, Elixir moves with strength, experience and confidence toward the next millennium.
CORPORATE OFFICES
24800 Chrisanta Dr Suite 100
Mission Viejo, CA 92691
Phone 949-860-5000 or 800-421-1942
Fax 949-860-5012
Christopher A. Sahm,
President & Chief Operating Officer

GEORGIA DOOR DIVISION
1215 Pope Drive
Mail: 1300 Pope Drive
Southside Industrial Park
Douglas, GA 31533
Phone 912-384-2078
Fax Purch. & Rec. Depts.: 912-383-9236
Fax All others: 912-383-9237
Archie Brown, Div. Mgr.
Entry doors/Steel Entry Door Cores

G & L STEEL DIVISION
243 Washington Ave.
Fitzgerald, GA 31750
Phone 229-423-4311 OR 800-622-2240
Fax 229-423-6722
Vickie Gasque, Div. Mgr.
Aluminum,Steel & Ironwood Fabrication

GEORGIA EXTRUSION DIVISION
1300 Pope Drive
Southside Industrial Park
Douglas, GA 31533
Phone 912-384-2078
Fax 912-384-6480
Philip Smith, Div. Mgr.
Aluminum Extrusion/Extrusion Fabrication/Powder Coat Paint

MEXIA INDUSTRIAL PRODUCTS
State Highway 14, P.O. Box 150
Mexia, TX 76667
Phone 254-562-5555
Fax 254-562-6476
Galen Day, Div. Mgr.

METALS DIVISION
640 Collins Rd.
Elkhart, IN 46516
Phone 574-294-5685 OR 800
Fax 574-293-0946
Rob Cunningham, Div. Mgr.
Aluminum, Steel & Ironwood Fabrication

TEXAS DIVISION
5500 Industrial Drive
Waco, TX 76710
Phone 254-741-1060
Fax 254-741-0155
Galen Day, Div. Mgr.
Entry Doors/Aluminum & Steel Fabrication

ARIZONA DIVISION
219 S. Mulberry
Mesa, AZ 85202
Phone 480-834-1484 OR 800
Fax 480-833-7569
Fred Desi, Div. Mgr.
Aluminum, Steel, Ironwood Fabrication/Entry Doors/Utility Doors

ALABAMA DIVISION
505 Hwy 20 East, P.O. Box 309
Tuscumbia, AL 35674
Phone 256-381-5932
Fax 256-381-0039
Jerry Anglin, Div. Mgr.
Exterior Doors/Water Heater
Ironwood Fabrication/Vinyl S
Metal Roofing & Siding

PENNSYLVANIA DIVISION
304 E. Main Street
Leola, PA 17540
Phone 717-656-2831
Fax 717-656-0969
Ron Rose, Div. Mgr.
Vinyl Siding/Steel & fiberglass Entry Doors/A
Ironwood Fabrication/Roof Vents/Range Hoods/Baggage
Doors/Escape Hatches/Putty Tape/Roof Coatings/RV Power
Converters/Sealants/Entry Door
Extrusions/Custom Plasma Cutting/Sporting Goods
Equipment

Supplier Directory Categories
Elixir Industries is also listed in these categories: