Profile Home
Supplier:
Ellsworth Adhesives

About
Experts in Adhesives
Ellsworth Adhesives offers over 65 adhesive, dispensing and equipment manufacturers with locations around the globe. When price and availability are critical, Ellsworth Adhesives delivers!

Extensive Product Line
For 40 years they have specialized in the distribution of specialty chemicals and equipment for the industrial, electronic, aerospace and medical device industries. Plus, Ellsworth services the growing needs of today's new emerging markets. Their product line also offers Mil-Spec, Class VI, ISO 10993 and RoHS compliant products.
They offer a complete selection of:






Over 65 Manufacturers
With so many adhesive, dispensing and equipment manufactures from one single source, Ellsworth saves you valuable time and money. Below is just a small sampling from the many manufacturers they offer. For a complete listing, view their Line Card.

Products: Dow Corning, Loctite, 3M, Emerson & Cuming, Dymax, Humiseal, Glue Dots, Bostik, Devcon, Henkel, and more!

Equipment: Loctite, Dymax, Fisnar, Techcon, Mixpac, Graco, Liquid Control and more!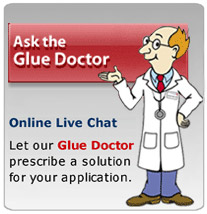 Engineering Sales Representatives
Their experienced sales team of 75 representatives is one of the most technically astute in the industry. Ellsworth is the only global distributor with the unique ability to design, develop and specify products, then provide continued support world-wide. For online adhesive solutions, they offer a live chat feature with their experienced Glue Doctor on their website.
World Wide Locations
Ellsworth is committed to servicing their customers locally, as well as expanding to meet their needs in many of the world's major manufacturing regions. With 18 stocking locations throughout the United States and Mexico, 6 stocking hubs in Europe and 5 in Asia, Ellsworth ensures local access and quick delivery of products. This expansive infrastructure allows them to continue to serve their customers quickly, cost effectively and anywhere in the world.
Ellsworth Adhesives is proud to offer a wide variety of services. If you require customization, Ellsworth Adhesives can fulfill your needs with:

Certifications
Ellsworth Adhesives is ISO 9001:2008 registered and AS9120A certified.
Mission Statement
Our Mission
What We Do:
To drive global design and process performance through adhesive and other formulated resin systems and services.

What We Want to Achieve:
To become the world's premier provider of adhesive systems and services.
How We Do What We Do:
Customer Focus at all times.

Integrity in everything that we do.

Quality in our work.

Cooperation with our coworkers, business partners and communities.

Product Catalog
Ellsworth Adhesives is listed in these service categories: