About

Ethernet Extension Experts (Enable-IT) is a Premier OEM Manufacturer of cost cutting plug-and-play Ethernet Extension solutions for the hospitality, commercial office, and multi-unit (residential or commercial) marketplace. They offer a wide range of solutions to extend ethernet networks, for every data type imaginable, up to 20X beyond the stifling IEEE/Ethernet distance limit of just 100 meters. What?s more, their seamless solutions do this over your own ?often forgotten- traditional copper-pair (e.g. telephone) wiring, effectively saving you thousands in overhead and security measures.

Enable-IT (Ethernet Extension Experts) pioneered these technologies in the 1990s and has since perfected them for every possible deployment scenario. Enable-IT ethernet extension solutions employ both powered and un-powered transmission technologies, driving 100mpbs data over CAT-2 untwisted copper wire up to CAT-6 UTP, telephone wire, coax, alarm circuit, Dry pair or Wet Pair cabling. This revolutionary technology will extend your network point to point, point to multipoint, and point to wireless (WiFi) access point all the way up to 1.13 MILES (20X beyond the basic IEEE/Ethernet distance limit).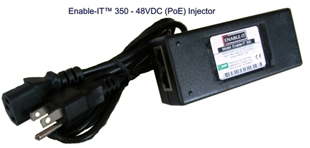 Ethernet Extension Experts is the world's most trusted and respected manufacturer of Ethernet Extension Technology. Ethernet Extension Experts designs and builds its products in the U.S.A. and, since its inception, has provided more Ethernet Extension Kits worldwide than all of its competitors combined. Ethernet Extension Experts continues to lead the industry by way of research, development, and fulfillment of client-driven features.
Key Reasons - Why trust The Ethernet Extension Experts
Cost - Lowest cost in the marketplace for Extended Ethernet and PoE solutions period.
Speed - Highest speeds and throughput over any competitor in the marketplace!
Ease of Installation - Country specific power adapters, no programming, Plug and Go.
Reliability - The preferred source Globally for solid products based on community user opinions and reviews.
Support - 24hr respectful, network expert and timely support delivered to customers and inquiries.
Solutions - Customer inspired and evolutionary solutions to meet any needs. Custom OEM available.
Warranty - They stand behind the quality of their products and offer an industry dominating three (3) year standard warranty vs competitor 90 day coverage.
Guarantee - The only manufacturer that has a money back satisfaction guarantee! Forty-five (45) day.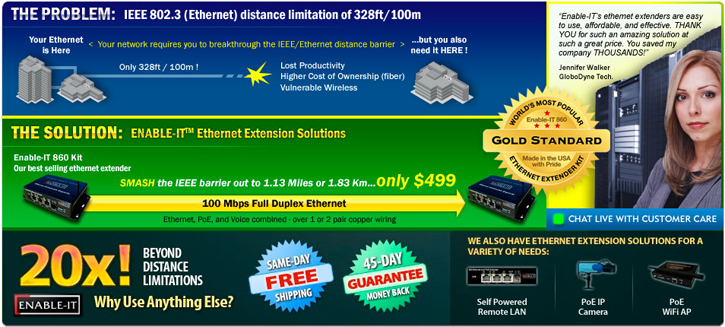 Supplier Directory Categories
Ethernet Extension Experts (Enable-IT, Inc.) is also listed in these categories: