About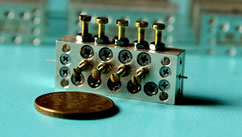 Filter Technology is a professional enterprise specializing in research and manufacturing microwave passive components. The products feature professional and reliable technology in R&D, machining and manufacturing. We have a professional design and R&D team directed by a microelectronics doctor, and 2 senior engineers with over 10 years of R&D experience.
The main products we design and produce are filters, diplexers, combiners, splitters, directional couplers, isolators and circulators. They are used in military and civil communication, satellite communication, digital TV, electronic countermeasure, etc. The frequency ranges from DC to 20GHz, and includes band pass, band stop, high pass, low pass, waveguide, cavity and microtrip.
Filter Technology implements the ISO9001 quality system to control our products' quality. Therefore, our products have achieved a good reputation in both domestic and overseas markets.
Providing high quality and high cost performance products is the ultimate goal of Filter Technology. In the increasingly competitive market, we keep the philosophy that quality and service are the foundation of the company. We provide overall technical support and product service 24 hours a day to solve customers' problems quickly and efficiently.
Filter Technology abides by the value that "quality is vitality, and the customer is the source of life of an enterprise", we strive to develop side by side with customers.

Supplier Directory Categories
Filter Technology Co., Ltd. is listed in these categories: