About
Gearing Solutions, Inc. ® is an engineering and manufacturing company dedicated to servicing the needs of Manufacturers & Designers in the power transmission field.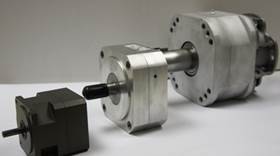 25 years ago, a unique gearing concept, Roller Gears, was used to launch a cycloidal high reduction gearing system. It was introduced by Kiss Corporation and Dana Corporation (as a private brand).
The original differential units worked well but they covered only a small segment of the market. The company set up an R&D program to explore a broad range of applications. Results were outstanding.
Today, the company manufactures a standard range of Gearing Solutions® roller gear-based NEMA Planetary Gearheads and special products for industries who want to capitalize on the cost effective use of this technology. These include speed increases for electric vehicles and wind turbines.
All feature newly patented designs and use state of the art manufacturing techniques. Our Drive Train Automated Design Program, library of developed designs, and inventory of Gearing Solutions® NEMA Planetary Gearheads blend to offer you a quick and effective solution to your gearing challenges.
Prototyping and short run facilities in Solon, Ohio cap our ability to provide you this unique service.

Supplier Directory Categories
Gearing Solutions is listed in these categories: