Profile Home
Supplier:
Gearing Solutions
About
Gearing Solutions® The creator of MaxaMinRoller Gears featured field tested designs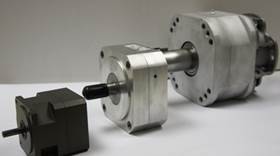 Roller Gears were first used in high reduction differential units and thousands of units were sold. Today Gearing Solutions produces the third generation of Planetary and Cycloidal Roller Gears used in a wide range of gearheads, speed reducers and speed increasers providing:
Maximum torque–minimum space.
The development process, fueled by demands from evolving industries, has led to many uses for this new technology. Examples include: auger drives, industrial mixers, welding robots, portable honing machines, ergonomic valve actuators, drives with counter-rotating double outputs and speed increasers – a long list.
The 3rd generation roller gear matrix ranges from under an inch in diameter to over 48 inches: inputs range from as little as 4 inch pounds to 10,500 inch pounds and up. These gears can be combined to create more than 1,200 ratios. Rounding out the GS capabilities are an automated drive train engineering program, efficient prototyping skills and short run capabilities.
Get to know GS with a completed questionnaire or a telephone call at 440-498-9538.
The MaxaMin System uses standard 3-4-5 to1 planetary roller gears and 12.5-25-50 to 1 cycloidal roller gears to achieve a wide variety of ratios and horsepower. This system can modify housings and shafts to adjust drive trains to fit your requirements and budget.
Technical Articles