Profile Home
Supplier:
MECO Shaft Seals

About
Original® MECO dry-running shaft seals
MECO is a full contact, soft face, mechanical shaft seal manufacturing company that not only engineers, manufactures and distributes its superior quality seals but also provides dedicated installation and support through personal and case specific customer service. MECO seals are custom engineered to each application, ensuring that the best combination of materials and design provide the most effective sealing solution. MECO models effectively seal dry powders, bulk materials, pastes, slurries, liquids and vapors, including aromatic hydrocarbons. Sanitary models are available for food and pharmaceutical applications. Most MECO seal models are manufactured fully-split, permitting installation and rebuilding without bearing or drive removal.
MECO seals:
Eliminate product damage associated with packed glands, such as burned or caramelized process material.
Eliminate contamination of product with packing residue.
Eliminate frequent repacking in sanitary applications.
Eliminate fretting and other shaft damage from packing/lip seal abrasion.
Permit frequent disassembly and reassembly for bench sanitizing.
Are available with USDA FSIS/FESD approval for meat and poultry service, USDA dairy acceptance, and with State of Wisconsin dairy service approval.
Provide simple machine and seal diagnostics & controls.
Accommodate shaft runout.
Accommodate thermal growth.
Contain pressure or maintain vacuum. Improves vacuum efficiency to shorten process times in dryers.
Contain hazardous vapors & solvents while sealing solids.
Contain highly abrasive powders and slurries.
Are built fully-split for simple installation and maintenance.
Are custom-tailored to your machinery.
Are well-suited to retrofits on existing equipment.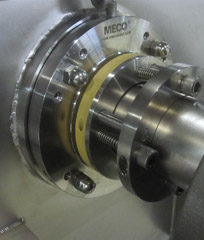 Custom Engineered Shaft Seals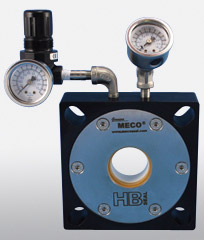 HB Standard Seals for
CEMA & Metric Screw Conveyors
Located on a Maine coast island, Woodex Bearing Company manufactures Woodex® oil-impregnated wood bearings and MECO® dry-running mechanical shaft seals. Woodex is committed to making environmental responsibility cost-effective for the process industries, by helping its customers reduce wasted energy and materials, and by minimizing the environmental impact of their processes.

Product Catalog
Technical Articles