Profile Home
Supplier:
Magnetic Shield Corporation

About
Magnetic Shield Corporation's technical team has learned,"Theory Is One Thing, Practicality Is Another, Evaluation Is Everything"
Usually, theory raises more questions, and provides no finite answer to technical professionals. That's why Magnetic Shield Corporation's engineering team has developed practical methods of evaluating performance. Global businesses, engineers, scientists, inventors, educators and homeowners in over 80 countries have used our Evaluation Kits and proprietary shielding materials for hands-on evaluation. As a leading expert since 1941, Magnetic Shield Corporation has developed thousands of technical solutions, supplied millions of fabricated shields, and refined our proprietary shielding materials to be the most effective alloys available. For further explanation how theory may be applied to your application, how to evaluate your design, or how Magnetic Shield Corporation's production capabilities and technical solutions can help, view our complete Company Brochure.
Production Capabilities & Fabrication Quotes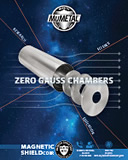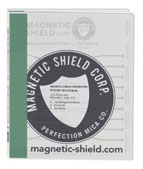 Magnetic Shield Corporation offers our proprietary brands of MuMETAL®, Co-NETIC®, NETIC® and INTER-8® to worldwide markets. And, upon receipt of your custom design by drawing and/or specification, our technical team can review your design, provide valuable input, and fabricate your shield. As an ISO 9001:2008 certified supplier, we will provide manufactured parts, made to your specifications. We are a diverse company, offering a broad range of production capabilities and solutions including: shearing, slitting, p.s.t. adhesives, assembly, rolling, laser & water-jet cutting, EDM, machining, turning, punching, stamping, forming, welding, annealing, prototyping and tooling. Contact us for a fabrication quote.
MuMETAL® SHEET & FOIL
MuMETAL® ZERO GAUSS
MAX PERMEABILITY
OUR PROPRIETARY BRAND
FOR FABRICATED SHIELDS
REQUIRES FINAL ANNEAL
new MuMETAL® cans
new toroidal cores
new "MuRoom®" - WALL SHIELDING

AA CABLE SHIELD® - see samples in our lab kits
SPIRA-SHIELD CONDUIT
INTER-8® CABLE
Co-NETIC® AA WIRE
IN STOCK NOW

MuMETAL ® SHEET & FOILCo-NETIC® | NETIC®
PERFECTION ANNEALING
INTER-8® CABLE
CONDUIT | BRAIDED SLEEVING
MuMETAL ® CANS
MuMETAL ® TOROIDAL CORES
MuRoom ® WALL SHIELDING
ZERO GAUSS CHAMBERS

REQUEST QUOTES
new MuMETAL® cans
new MuMETAL® cores
new "MuRoom®"
PROTOTYPES | SAMPLES
CUSTOM SHIELDS
STRESS ANNEALING
PERFECTION ANNEALING
FULL MANUFACTURING SERVICES

Product Catalog
Magnetic Shield Corporation is listed in these service categories:
Technical Articles

How Do Magnetic Shields Work?
(RF, Microwave, and Wireless Components)
Magnetic shielding materials re-direct a magnetic field so it lessens the field's influence on the item being shielded. Shielding does not eliminate or destroy magnetic fields, nothing does. It does,... (
View Full Article
)

Magnetic Fields & Shields
(RF, Microwave, and Wireless Components)
Typically, most people have been exposed to the phenomena created when you lay a bar magnet on a table, place a piece of glass over it and sprinkle iron filings on the glass. What turns up is a... (
View Full Article
)