About
Malish Plastics specializes in custom thermoplastic extrusions. They use state-of-the-art equipment and technology to extrude customized profiles and tubes to meet their customers' specifications. Malish Plastics offers a wide range of plastic extrusion capabilities.
Malish Plastics' Areas of Expertise Include:

Heavy wall rigid pipe in diameters to 12" - when roundness, concentricity, straightness, or I.D. are critical.
Simple or complex profile extrusion in a wide array of compound/resin options.
Multi-diameter, close tolerance tubing in small to mid sizes. You specify the wall thickness.
Co-extrusion in flexible on rigid, flexible on flexible, color on color, or clear on opaque configurations.
Semi-rigid compound extrusion - material that has a very hard surface durometer, but can be bent or formed over its length.
Flexible PVC, thermoplastic rubber, and thermoplastic urethane profile and tube extrusion - put up in flat coils or on reels.
Quick turnaround on tooling and prototypes.
Design assistance and genuine interest in solving your next extrusion challenge.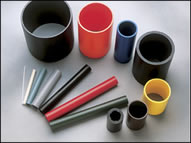 At Malish Plastics, their quality assurance team utilizes state of the art methods and equipment in order to assure that your products are manufactured to your specifications. It is their focus to work with their customers from the design process, through the initial sampling procedures, and into production, in order to define expectations and potential trouble spots.
Malish Plastics can either design a quality plan to fit your product or work with your quality department in order to meet your requirements from ISO to automotive. To that end, they employ a full time staff of trained quality personnel whose goal is, "to delight their customers each time ...every time."
The people at Malish Plastics are proud of their history and their tradition of service and quality. They invite you to join in their success and allow them to participate in yours as well. You will find "their family" delighted to have you.
Supplier Directory Categories
Malish Plastics is also listed in these categories: