About

Corporate Description
Metalfab began as a small sheet metal company back in the late 1940's and entered the world of dry solids handling in 1977. Two of the current owners had a vast amount of experience in the materials handling industries before acquiring a co-ownership in the company in 1977.

Markets Served
Metalfab has thousands of units in operation worldwide which serve a variety of markets. These major markets include food, chemical and a heavy concentration in water treatment. Additional markets include foundry, pulp and paper, pharmaceutical and plastics.

Facilities
Located on an eleven acre parcel of land, approximately 50 miles from New York City, Metalfab's facilities are comprised of a 30,000 square foot manufacturing building and a 4,000 square foot office in the beautiful mountain region of northern New Jersey. There are two test laboratories along with two conference rooms where details of a customer's requirements are reviewed.

The sheet metal working equipment handles materials up to 1/2" thick and operates daily on carbon steel, stainless steel and aluminum sheets, angles and tubing.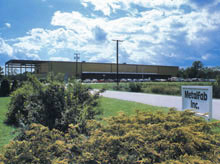 Technologies
Nearly 30 years ago, Metalfab's personnel conceived and developed a unit that would guarantee flow of any dry solids from bins without interruption to the flow. Although similar types of units were on the market at the time, the Metalfab unit was the only one that could assure flow through small outlets without the need for cycling the equipment. Metalfab was also innovative in developing a screw feeder with only five moving parts greatly reducing maintenance requirements and assured long life. Today, the company's revolutionary Meta-Tech™ feeder utilizes only 2 moving parts.

Major Products
Today, the company makes high quality bin activators, pre-steamer bin activators, PosiBins™, live bins, bulk bag unloaders, MetaTech™ Volumetric Screw Feeders (with only 2 moving parts), Better-Weigh™ loss-of-weight feeders, belt feeders, Convey-All™/FSC Flexible Screw Conveyors, Convey-All™/VTC Vibratory Tube Conveyors, spin loaders, and continuous mixers.

Product Catalog
Metalfab, Inc. is listed in these service categories:
Technical Articles