Profile Home
Supplier:
Milwaukee Cylinder
About

Milwaukee Cylinder, a leader and innovator in the hydraulic and pneumatic actuation field since 1956, is now ISO 9001:2008 certified. Business Leader Frank Meiland states, "This certification allows us to continue down our path of globalization. We have been honing in on key vertical markets (e.g., power gen, oil & gas and certain government branches), and in order to meet their needs, it is absolutely crucial that we achieved this milestone. Although Milwaukee Cylinder has followed the ISO guidelines for many years, the formal certification process helped us become a more consistent organization."


There are many good reasons to work with us…
Broad application expertise
Ability to solve the tough problems
Trouble-free reliable product
Unparalleled service excellence
Dependable on-time delivery
Highly accessible quality people
Quality product with expert design

Specials are our Standard...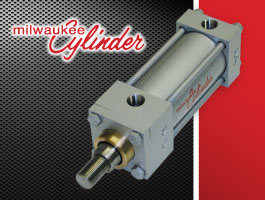 Milwaukee Cylinder is a long established and recognized supplier of highly engineered cylinder solutions and is a manufacturer of a standard range of steel and aluminum NFPA tie-rod cylinders for both hydraulic and pneumatic applications. We engineer many unique "specials" for very demanding applications over a wide range of Markets and Industry Segments. Milwaukee Cylinder also manufactures a range of Industrial Manipulators for material handling applications.
At Milwaukee Cylinder, we operate with a spirit of innovation and creativity, dedicated to meeting the needs and challenges of today's most demanding applications. We take pride in being a producer of High Quality Performance-Tested hydraulic and pneumatic products. Products that have been proven and tested by the world's leading manufacturers in the harshest environments.
With our on-going commitment to research and development as well as our worldwide sales and distribution network we will continue to meet and exceed demanding customer requirements and provide world-class customer service.
From initial design to after-sale support, we maintain the same high level of quality that our customers have come to recognize from Milwaukee Cylinder.
New – Live Webinar Training:
Industrial Manipulators – Pow'r Reach™/Pow'r Arm™
Next Session: Oct 27th; 10:00 to 10:30 AM Chicago Time
Click here for details and to sign-up

Smart Cylinders – Position Sensing / Feedback
Next Sessions: Nov 3rd or Dec 15th; 10:00 to 11:00 AM Chicago Time
Click here for details and to sign-up
Technical Articles