About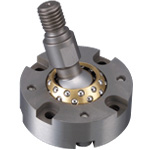 Myostat Motion Control Inc. provides modern automation components and sub-assemblies including integrated servo systems, intelligent linear actuators, high precision linear and rotary bearings, and micron accuracy multi-axis stage systems to the automation system integrator and OEM markets. Active markets for Myostat Motion Control Inc. currently include Medical Testing and Dispensing, Drug Discovery, Semiconductor Handling and Testing, Silicon Cell Growth, Automotive Manufacturing, Adhesive and Lubricant Dispensing, Photonics Automation and Alignment, Packaging Automation, and other general robotics.
Myostat Motion Control's Product Line Includes:
CM1 Cool Muscle (a 24Vdc integrated servo system)
CM2 Cool Muscle (an AC servo based integrated motor system)
ZIPP In-line and right angle planetary gears
Integrated ball screw and lead screw linear actuators, harnessing the Cool Muscle
Cool Muscle single to six axis high precision stage systems including goniometers
Reli-a-Flex shaft couplings for shafts from 1mm OD to 12.5mm OD
Reliance Precision Mechatronic anti-backlash gear sets to AGMA 14
Hephaist SRJ spherical rolling joint with 1um or 2.5um of backlash
Hephaist arcroller guide linear bearings for rigid, accurate linear support
It's What's Inside that Counts!
The Cool Muscle is an integrated servo system. All of the necessary hardware and electronics are combined into one package.
Though the integrated package offers many opportunities for your machine, don't forget about the modern H Infinity control software that resides in the Cool Muscle's RISC CPU.
One of the latest advances to the Cool Muscle is the addition of the robust H Infinity controller. Unlike PID systems, the H Infinity controller handles changing load dynamics with grace. From inside Cool Works, their interface software, the H Infinity controller can be run through an auto tuning system to quickly assess your mechanism's load and configure the control system for optimal responsiveness.
The unique Cool Muscle line of integrated servo products deliver solutions that will trim costs and time from your development cycle, and yield improved machine performance.
Rigid Linkages for Parallel Robotics and Photonics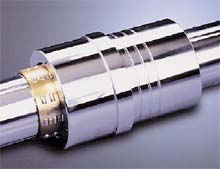 The Hephaist SR Joint and Arcroller guides provide extremely rigid, low backlash linkage and guidance for demanding automation.
Designed for parallel robotics such as hex-a-pods, the SRJ is a ball joint system incorporating ball rolling within a caged bearing structure. The SRJ comes in a wide range of sizes with both Vacuum Grease and Raydent surface treatment options. Precisions range from 2.5um down to 1um of backlash.
The Circular Arcroller Guide is a high precision and high quality linear guide. The unique construction is such that along the orbital plane of the axial circular arc groove, all arcrollers (spherical rollers) roll toward the axial center while automatically aligning. It excels in automatic aligning, high-rigidity, durability, speed and straightness while guaranteeing lower friction, less oscillation and a longer life due to roller-specific light pre-load.

Supplier Directory Categories