About
National Instruments is transforming the way engineers and scientists around the world design, prototype, and deploy systems for test, control, and embedded design applications. Using NI open graphical programming software and modular hardware, customers at more than 30,000 companies annually simplify development, increase productivity, and dramatically reduce time to market. From testing next-generation gaming systems to creating breakthrough medical devices, NI customers continuously develop innovative technologies that impact millions of people.
Software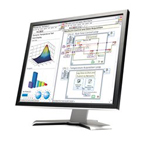 National Instruments not only understands the importance of software, but believes software is the foundation of your measurement and control system. NI offers a software solution for nearly every application, ranging from very simple to very sophisticated. Their flagship LabVIEW™, software product, has revolutionized the development of test, measurement, and control applications. Using National Instrument software increases productivity in creating test, measurement, and automation solutions through data acquisition, data analysis, and data visualization. Their software architecture incorporates each product so you can utilize them independently or together to build your measurement and control system.
Hardware
NI modular instruments are the building blocks of economical and versatile automated test systems. With modular instruments, engineers can choose from a wide variety of measurement, signal generation, RF, power, and switch modules and then configure the instruments in software to meet their specific measurement tasks. Additionally, NI modular instruments provide high-speed test execution by harnessing the power of industry-standard PC and advanced timing and synchronization technologies. Options are available for a variety of platforms including PXI, PXI Express, PCI, PCI Express, and USB.
National Instruments also offers an extensive assortment of instrument control hardware tools to help you save time and money throughout the life of your instrument control system. Improve performance and increase reliability with bus hardware for GPIB, USB, Ethernet, LXI, LAN, and serial while taking advantage of increased productivity due to software tools such as NI LabVIEW and premade instrument drivers.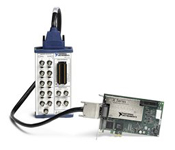 With more than 50 million I/O channels sold in the last 10 years, National Instruments is a global market leader in PC-based data acquisition with a complete family of DAQ products for desktop, portable, industrial, and embedded applications. Choose from a variety of major buses and form factors, including USB, PCI, PCI Express, PXI, PXI Express, wireless, and Ethernet.
To serve expanding machine and industrial control system development needs, leading automation companies have created a new class of industrial controllers known as PACs. PACs combine programmable logic controller (PLC) ruggedness with PC functionality under an open, flexible software architecture. With these controllers, you can build advanced systems incorporating software capabilities such as advanced control, communication, data logging, and signal processing with rugged hardware performing logic, motion, process control, and vision.

Product Catalog
Technical Articles


What Is SC Express?
(Data Acquisition)
The NI SC Express family offers PXI Express data acquisition with integrated signal conditioning for measuring strain gages, bridge-based transducers, thermocouples, and high-voltage analog input... (
View Full Article
)