About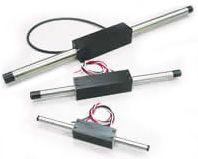 Since its founding in 1952 as a total system maker of a variety of motors, drivers, controllers, actuators and mechatronic systems (which have high control properties), Nippon Pulse America, Inc. has supplied high-quality products to a wide range of industries.
NPA's flexible business activities are spread over a broad range of areas, including motion control systems, and exhibit high productivity and excellent technology. Being aware of technical revolution and maturity, their aim is ongoing research and revolution. However, they are striving to not simply manufacture products to satisfy customers but to produce highly sophisticated products that impress them. NPA believes that this creates up-to-the-minute products and links directly with the attainment of a plentiful society.

NPA is located in Radford, Virginia, to better assist customers in the North and South American markets. NPA has a model shop for quick turn-around (usually within 24 hours) on small quantity orders of tin-can steppers. Limited quantities of stock on standard motors and electronics are available to allow faster response to customer needs.
NPA's mission is to faithfully create the new values sought by their customers and contribute to the development of society from a global viewpoint.

Supplier Directory Categories
Nippon Pulse America, Inc. is listed in these categories:
Technical Articles


Basics of PCL Series: Pulse Control LSIs
(Motor Controls and Drives)
PCL-240 family In this family, each command is allocated a specific bit. Basically, this is a simple family that has only four modes: start mode, control mode, register select mode, and an output mode... (
View Full Article
)