About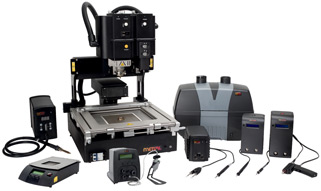 Electronics Bench Tool Solutions
Since 1982, OK International's premium brand, Metcal, has been enhancing the productivity of electronics manufacturers around the world by supplying them with high performance, precision systems. Metcal's innovative system designs encourage seamless interaction between operators and equipment, making the most difficult rework tasks fast, efficient, repeatable and of the highest quality level possible.
Focused on satisfying the production and rework needs of engineers in the PCB assembly industry, Metcal offers a comprehensive range of soldering/desoldering, rework, fume extraction and fluid dispensing systems.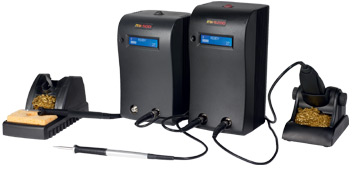 Because of the complexity of today's assemblies and the high cost of operator training, Metcal systems are extremely intuitive and user-friendly. These factors combine to minimize downtime for machine set-up, reduce training costs, speed operator efficiency and maximize throughput.
The Metcal MX Series provides users with a wide range of choices to address conduction soldering and rework processes. At the core of each system is a microprocessor controlled power supply that provides more power, the highest level of precision and advanced user features for greater process control.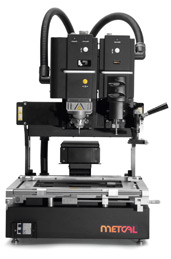 SmartHeat® Technology in every Metcal Soldering System means that soldering and rework are always performed at safe, controlled temperatures. Metcal users know that moderate fixed temperatures, where power is varied, provide the best assurance for a well controlled soldering and rework process.
Economical and easy-to-use, the Metcal Scorpion Series deliver best-in-class BGA, CSP and QFN Rework functionality with professional performance at an affordable price.
These Advanced Package Rework Systems incorporate state-of-the-art vision, and closed-loop time, temperature and airflow control. Precision placement and powerful software make the rework of complex array packages easy, fast and reliable.
With decades of experience, Metcal is committed more than ever to provide customer driven solutions and the reliable products you demand. Plus, they are backed by their global sales channel whose knowledge and experience of applications and technology is unrivaled in the industry.
Supplier Directory Categories
Metcal / OK International, Inc. is listed in these categories: