About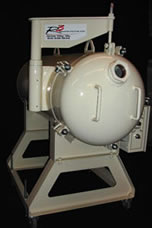 R3 Manufacturing is proud to introduce to the rapid prototyping industry our newest pressure casting system. As you know, silicon molds are the most economical medium to cast urethane reproductions. However, to get a void-free copy repeatedly, it is necessary to place the RTV mold in an artificial environment that is the appropriate size, temperature and pressure.
R3 knows that there are many temperatures and pressures that can be used to produce a quality prototype. That's why we set up the system to your specifications. We manufacture a 24" dia. X 48" long vessel (longer tanks for larger molds upon request) that gives you increased flexibility in regards to capacity and yields a calculative controlled environment, with temperatures up to 150° F and pressures up to 80 psig. max. Until recently, there were no alternatives to high cost molding machines, with the exception of home-made converted paint pots. R3 has been in many shops that have made their own pressure tanks, some are very impressive, and others are very dangerous. Everyone has heard a story about a pressure tank mishap. This, from an owner's legal standpoint, is an issue that should be given lengthy consideration, using a home-fabricated tank could become a serious liability issue.
R3 manufactures A.S.M.E. code compliant pressure vessels. "U" stamped with all traceable materials assure you every step has been taken to yield a safe system that will provide years of production with minimal downtime.
Buy with confidence! All precautions have been thought out, so you don't have to.
Expand your casting capacity and unlock your potential! Give us a call today.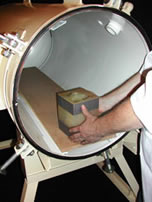 R3 manufactures custom tanks from 18"-48"diameter X 24"-120" long, utilizing a davit to support the door and let the operator pivot the door completely away from the front of the tank to load and unload molds. The tank shown is fully optioned and comes with davit, short stand, legs with caster, levelers, window, heating system, fittings that will used for intake, and exhaust air, pop off safety valve, and various other ports for different applications.
R3's tanks feature options that protect you and your company. Observe your prototypes molding progress through a tempered boroscilicate glass window. Open the door to the tank using the handles and the no-sag davit door.
All tanks are manufactured from ASME approved materials and are labeled according to ASME Code section VIII, Division 1.
Supplier Directory Categories
R3 Manufacturing Limited is listed in these categories: