Profile Home
Supplier:
R+W Coupling Technology

About

Torque Limiters

Bellows Couplings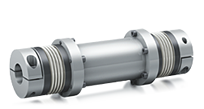 Line Shafts

Elastomer Couplings

Linear Couplings
Flexible Shaft Couplings, Torque Limiters and Line Shafts from 0.05 - 160,000 Nm
After more than 20 years of innovation in the design and manufacturing of servo couplings and torque limiters, R+W continues to push the technical limits and make couplings perform better. With substantial improvements to inventory, lead times, and their ever growing variety of precision couplings, R+W is taking strides toward becoming your complete coupling supplier. Whether your preference is to use parametric search tools, browse through catalog pages, or present your application details to a qualified expert by phone or e-mail, R+W has what you need to make the right selection, and complete your design – fast.
Visit www.rw-america.com to view and download articles, technical details, 3D models, and get the ultimate connection, worldwide.

Product Catalog
Technical Articles