Profile Home
About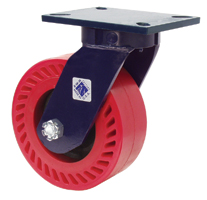 As a leading manufacturer of industrial casters and wheels, as well as being the originator and market leader in kingpinless casters, RWM's primary mission is to continue developing and manufacturing high quality casters, wheels and material handling products that fully satisfy our worldwide customers' needs. In addition to over 65,000 standard products we also offer in house engineering design and manufacturing services for custom caster design and specific application solutions.
RWM's total commitment to this mission is evident in our reputation for combining superior engineering experience and talent, with modern manufacturing techniques, an emphasis on high quality products and comprehensive customer service.
In 1988, three of the nation's leading caster and wheel companies, Rapistan, WilMat and Midwest, merged to become RWM Casters Co. We trace our roots back to 1935 and have been a proud member of Staunton Capital since 1992. Located in Gastonia, North Carolina, approximately 20 miles west of Charlotte, we pride ourselves on being one of the largest domestic manufacturers of heavy duty industrial caster and wheel products. You'll notice that all our Kingpinless casters are branded as made with care in the U.S.A, right here at our Gastonia NC production facility. From the efficient performance of the light and medium duty casters, to the brute strength of the big single and dual wheel kingpinless casters, the emphasis at RWM is on a perfect match to meet the task at hand.
Patented kingpinless swivel sections shoulder the stresses of heavy loads
A wide range of top plate options to retrofit almost any caster mounting plate configuration
Strong, flexible, super tight neoprene swivel seals to keep moisture and debris away from the swivel sections assuring longevity and performance
Patented offset raceway construction to transfer forces to areas of maximum strength of the swivel section overcoming the inherent weakness of clone kingpinless designs
A tremendous range of wheel composition and construction to provide maximum performance and rollability, while shrugging off every environmental threat from rough floors and damaging debris, to caustic chemicals and temperature extremes
A variety of zinc plating to resist corrosion
Stainless steel casters for longer life in caustic environments
High performance wheel brakes and swivel locks leading the way in innovation for precise tooling applications and caster needs.... the list just keeps going!
At RWM the engineering is complex, but the goal is simple: to build unsurpassed performance, unmatched durability, unequaled longevity and unerring applicability into every caster, wheel and material handling product we ship!
Industries Served: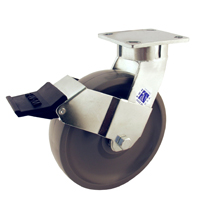 Air cargo
Tooling design & transportation
Construction equipment manufacturing
Agricultural equipment manufacturing
RWM Casters Company is listed in these service categories:
Technical Articles