About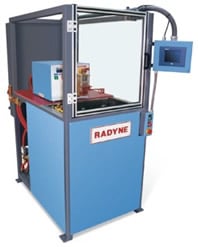 Radyne is a global leader in the design, manufacture and sales of advanced induction power supplies, coils, and machine automation for a wide variety of applications. Radyne is located in Milwaukee WI, USA and is a subsidiary of the Inductotherm Group; the world's largest supplier of melting, thermal processing & production systems for the metals and materials industry worldwide. This gives Radyne and other Inductotherm Group companies access to deep technical, financial, and global logistical resources an order beyond those available to any other induction products and systems supplier.
From aerospace through to tools, from automotive through to construction and food processing; Radyne has the industrial heating equipment to help you make the parts with the demanding properties you need.

With power supplies from 3KW to 2000KW and 60Hz through 21MHz Radyne has the induction, resistance, and dielectric heating equipment, knowledge and the automation experience to accomplish your mission.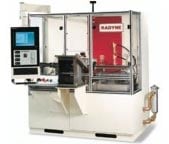 Radyne's passion for excellence in engineering has made it a sought after brand at the top of customers' lists of induction and resistance heating systems suppliers. Radyne offers a full line of induction power supplies, heat stations, coils, scanning systems, brazing systems, wire, rod, and cable processing systems, pipe coating systems, and systems for automating the many other diverse applications of their customers from crystal growing to lens making.

Radyne delivers the very best Inductotherm Group products and technologies to customers with demanding applications.

From its origins Radyne has expanded to include applications in metal forging, heat treating of metals, wire heating, and joining by soldering and brazing as well as many special processes. Depend on Radyne and experience their dedication, innovation and value.

Experience the difference, experience Radyne.
Click here to learn more about other companies in the Inductotherm Group

Supplier Directory Categories
Radyne - An Inductotherm Group Company is listed in these categories: