About
Gearing Ahead to Meet Industry's Demand for Precision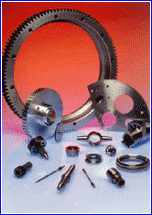 STD is a proven leader in the manufacturing of high precision (AGMA Q14), complexly configured, tightly toleranced gears, splines and other related mechanical transmission components.
The company manufactures their own blanks in house. They do NOT rely on others for blank preparation. Manufacturing of precision gears requires rigid control of the entire manufacturing process. STD is a full service precision gear manufacturer with a wide range of precision in-house machining capability covering all disciplines of machining necessary to manufacture their own blanks.
STD's capabilities are extensive to include: Sawcutting, CNC Turning, CNC Swiss Screw Machining, CNC Milling, CNC Wire EDM, RAM/Die Sink EDM, Internal & External Cylindrical Grinding, Surface Grinding, ID Honing, ID Grinding, Broaching, Gear Hobbing, Gear Shaping & Shaving, Vibratory Tumbling, Precision Deburring, Isotropic Superfinishing, Assembly, CNC Piece Marking, Nadcap Accredited Passivation of Stainless Steel & Nadcap Heat Treatment of Class D materials to include Tool Design & Tool Making; they have all these capabilities in-house.
Registered AS9100 & ISO 9001 on OASIS as well as Nadcap Accredited in Heat Treatment & Passivation; quality is what STD is all about. In house Nadcap accredited processes provide them with total control over these vitally important processes.
STD has the necessary skilled machinists, machinery, quality control system as well as measuring & test equipment to provide you with superior product and documentation second to none in the industry.
The company takes tremendous pride in manufacturing products qualified for such critical applications as NASA's International Space Station, the Hubble Telescope, Commercial & Military Aircraft as well as various defense products requiring precision.
STD has proven consistently to be a reliable quality partner, earning the trust and respect of the finest corporations in the United States. From prototype to production, STD has the solutions to manufacture your most critical and challenging requirements.
Industries Served:
Aircraft · Aerospace · Actuation · Instrumentation · Optic · Robotics · Radar · Medical · Marine · Hi-Performance Automotive · Defense · Experimental · Prototype · Production
Precision Gear Products (up to AGMA Q14):
Spur Gears, Helical Gears, Worm Gears, Anti-Backlash Gears, Cluster Gears, Clutch Gears, Face Gears, Planetary Gears, Gear Assemblies, Gear Boxes, Bevel Gears, Miter Gears, Metric Gears, Internal Gears, Idler Gears, Gear Rack & Pinion, Worms, Wormshafts, Splines, Spline Shafts, Serrations, Gearshafts.
Pulleys and Sprockets:
Timing Belt Pulleys, Grooved Pulleys, Film Sprockets, Rollerchain Sprockets, Ladderchain Sprockets, Silentchain Sprockets, Gates Polychain GT, Goodyear, Synchroflex, Gilmer, Uniroyal.
Other:
Ratchets, Cams, Cranks, Universal Joints, Couplings, Jackscrews, Geneva Mechanisms.
. . . . . . . . . . . . . . . . . "Geared to be a cut above". . . . . . . . . . . . .


Supplier Directory Categories
STD Precision Gear & Instrument, Inc. is listed in these categories: