About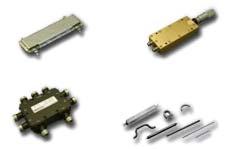 Since 1955, Spectrum Microwave has devoted their resources to providing customers with a broad spectrum of quality RF and microwave components from DC to 60 GHz. Recognized throughout the industry for quality and reliability, state of the art engineering, timely delivery, and competitive pricing, their products have contributed to the success of many advanced defense and commercial systems. In addition to these systems which involve communications, detection, counter-detection, and navigation, Spectrum Microwave has designed and manufactured components and subsystems for use in a variety of other applications. These include cancer therapy, broadcast equipment and test instrumentation.
Microwave Profile

Spectrum Microwave has always been known for its considerable component and passive product heritage. Innovative approaches to high performance designs have provided an expanding customer base with components and subsystems possessing excellent reliability histories and competitive price points.

The broad scope of their technology serves four diverse markets which demand Reliability First.

Defense Electronics


Electronic Counter Measures
Electronic Support Measures
Radar
Communications



Commercial Telecommunications

Cellular/PCS
Point-to-point
Wireless
Broadband
Paging



Medical Equipment



Test Equipment

Technology
Technology groups are defined by the unique set of engineering disciplines and manufacturing skills required to design, develop, and produce a product. A diverse set of disciplines support four technology groups and a vast array of sophisticated products.
Products
Components
Electromechanical: Rotary Joints, and Phase Shifters.
Passive connectorized: Filters, Diplexers, Multiplexers, Hybrids, Couplers, Power Dividers and Linear Equalizers.
Active connectorized: Mixers and Limiters.
Drop in and surface mount: WIRELINE® and WIREPAC®, low cost Hybrids and Couplers, Mixers and Limiters.
Products
Subsystems
Integrated Assemblies: Up/Down Converters, Digital Frequency Discriminators, Detector Log Video Amplifiers, Switch Multiplexers, Frequency Memory Loops, Phase Receivers and Custom Designs.
Commitment
ISO 9001 2000

Quality is not solely the responsibility of the Quality Assurance Department, but results from the commitment of every employee to continually improve every product and process. Emphasis is placed on product quality, performance and reliability during each step of the production process.

Whether the application is for commercial or military applications, Spectrum Microwave facilities, personnel and quality systems insure quality parts are manufactured which meet or exceed the customer's requirements.

Approved configuration management systems
Parts screening, inspection and testing
Program specific procedures per customer request

In the absence of specific customer requirements, the policies and procedures in the FSS Quality Manual are strictly followed. The manual, which represents more than 41 years of experience, has been rewritten to address the demands of ISO 9001. Their quality system and procedures have passed the scrutiny of many commercial and defense customers and are compliant with:

ISO 9001
MIL-Q-9858
MIL-I-45208

Spectrum Microwave's dedicated factory professionals and global network of field sales representatives welcome the opportunity to provide products and service with the Reliability First touch. For quality products, on time deliveries and competitive prices, please contact their sales department by phone, fax or e-mail.

Supplier Directory Categories