Profile Home
Supplier:
Stanley Engineered Fastening - Spiralock

About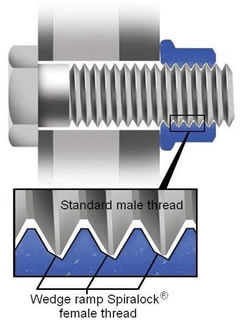 Your Threaded Fastening Solutions Company
Spiralock® is a unique and proprietary preload locking internal (female) thread form that's exceptionally resistant to transverse vibration -- the primary cause of thread loosening.
Proven in thousands of applications, Spiralock threaded holes and nuts accept standard male fasteners, eliminate the need for other locking devices ... and substantially reduce the potential for fatigue failure when compared to standard threads.
Company History
Founded in 1927 under the name of Detroit Tap and Tool Co.. a manufacturer of cutting tools for the auto industry, Spiralock evolved over the years, tapping into new markets and industries with new types of products. The real breakthrough came in 1979 with the introduction of the Spiralock® internal locking thread form system. Successfully adopted by NASA on their space rocket engines, it soon became the choice of many of today's engineers to prevent or solve screw threads from coming loose in a wide range of applications.
Headquartered in Madison Heights, Michigan, with operations in Europe, South America, and Asia, Spiralock serves a multitude of industries worldwide including aerospace, heavy truck, military, automotive, diesel engines, medical, farm & construction, oil & gas, and others.
Our vision is to be recognized as the leading international fastening solutions company. By understanding and staying one step ahead of the changing needs and desires of our markets, we're confident we can develop the products and technology our clients need for their fastening solutions, even before they need them. As of September 2008, Spiralock is part of the Black & Decker Corporation (now Stanley Black & Decker), as a brand of Stanley Engineered Fastening. Combining Stanley Engineered Fastening's global leadership in the design and creation of unique assembly technologies with our reliable Spiralock fastening system, world-class technical expertise, customer service, and global logistical support, we continue to enhance our capabilities to help you improve your product's quality and integrity.

Product Catalog
Technical Articles