Profile Home
Supplier:
TT Semiconductor, Inc.
About
Solutions for Rugged, Reliable, Extended Temperature Semiconductor Products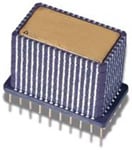 There are many applications where Integrated Circuits need improved performance over what is currently provided by standard commercial offerings. This requires higher grade packaging of the die with screening and testing of these devices to more severe electrical, mechanical or thermal limits. This process will increase the components reliability and survivability in harsh or demanding environments. TT Semiconductor has the expertise in the manufacture of standard semiconductor products specifically designed to meet these requirements.
TT Semiconductor is the leading manufacturer of electronic components designed to survive under extreme temperature ranges and harsh environmental conditions. The current standard product offering is focused on high performance analog and memory devices that will operate at temperatures of 200C.
TT Semiconductor is a newly formed division of Twilight Technology. Twilight Technology was founded in 1994 to serve the custom high temperature, harsh environment semiconductor market. Subsequent growth and steady investment in facilities and equipment permitted Twilight to segment the business into the ruggedized standard products division, TT Semiconductor, which included a broadening in the standard product offering to Analog devices.
The backbone of the company is its mission statement: Total Customer Satisfaction. This mission is accomplished through products that offer great value and are supported and guaranteed to an industry best product warranty. Factory applications engineering and a worldwide network of sales offices and representatives are ready and available to assist with any customer requests.