About
Your best choice for high frequency welders, cutoffs, and
heating equipment for the production of pipe and tube.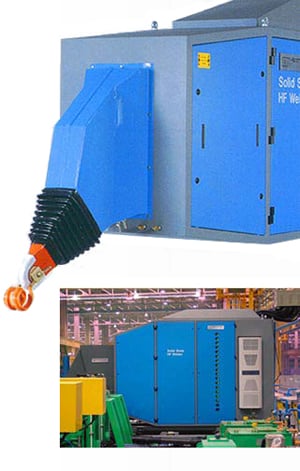 Thermatool Produces Superior, Cost-Effective Tubular Products With:
State of the art designs
Reliable performance
Extensive process knowledge
Exceptional after sales support worldwide
Thermatool Products Include:
Solid State Welders
With two decades of success in solid state technology, and over fifty years of process knowledge, Thermatool Solid State High Frequency Welders are the most advanced, reliable, field-proven welders available in the world today.
Vacuum Tube Welders
Thermatool has been producing vacuum tube welding units for over fifty-five years. With over 3,000 units sold, they offer proven, reliable designs at very competitive pricing.
Alpha Flying Shears
Thermatool Alpha Flying Shears are the fastest most efficient and accurate tube cutting systems available in the world today.
Cold/Friction Saws
Thermatool offers a range of both flying cold and friction saws to meet your tube and pipe cutting requirements.
Seam Annealers
Thermatool seam annealing systems can be provided for the complete size range of API pipe and for spiral pipe with any helix angle.
Full Body Heating Systems
Thermatool provides a complete range of solid state equipment for inline heating of pipe and tube.
Bright/Dull Annealing
Stainless steel tubing is being used in greater quantities than ever before along with increased demand for high quality, fully annealed tubing with either a bright or dull surface finish.
Quench & Temper Lines
Thermatool's innovative approach to process high grade materials applies proven designs to evolving industry needs.
Tooling
Thermatool has a complete line of consumable products available for welding and cutting equipment including coils, impeders, ferrite, blades and jaws.
Service Parts
Spare Parts are available for all generations of Thermatool equipment including Vacuum Tube Welders, Solid State Welders, High Speed Flying Cutoffs, and Heating Systems. Additionally, repair and return capabilities are in place for many items such as HF modules, control boards, transformers, and die sets.
For more information on how Thermatool can assist you in making a superior cost effective product, please contact them.
Click here to learn more about other companies in the Inductotherm Group
Supplier Directory Categories
Thermatool - An Inductotherm Group Company is listed in these categories: