About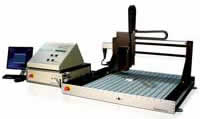 TRICOR has gained a reputation for quality manufacturing and innovative design by producing award winning patentable products. TRICOR's engineers meld electronics, mechanics and optics to produce unique and specialized equipment. Expertise also includes electronic contract manufacturing for the medical, military, aerospace and industrial markets. Providing contract manufacturing since 1976 TRICOR offers a wide variety of services ranging from short-run prototypes and pre-production units to long-range production of Class I, II and III medical devices. Value added services include: an engineering staff to develop electro-mechanical & electro-optical equipment from concept to operation manuals, hardware and software design, packaging, qualification testing and PCB layout from through-hole to surface-mount. TRICOR has worked with many startup companies to help make their ideas become a viable product. In 2008 TRICOR won the Medical Design Excellence award. TRICOR is ISO 90001:2008 Certified, ISO13485 Certified, Mil Spec Certified and FDA registered manufacturer.
TRICOR offers stock and custom instrumentation products including image photometers, chocolate temper meters, switch keypad testers, life cycle testers, light measurement and inspection systems, gloss meters and surface analysis systems, custom illumination systems, simulators and image processing software. Expertise includes electronic contract manufacturing and engineering of electronic systems, circuit cards, SMT, cables and electro-optical-mechanical devices for medical, aerospace, military and industrial applications. The majority of TRICOR's products have been developed for testing and quality assurance functions in the military, switch, food and light measurement industries.
TRICOR's chocolate temper meters have become the world standard with our switch testers, gloss meters and photometers proceeding down a similar path.

Supplier Directory Categories
TRICOR Systems Inc. is listed in these categories:
Technical Articles

Chocolate Temper Measurement
(Temperature Sensing)
Many fine papers have been delivered and written about chocolate temper by authors far more knowledgeable than this writer as regards to the chemistry and processes involved in producing the... (
View Full Article
)