Profile Home
Supplier:
Wacker Chemical Corp.
About
CORPORATE OVERVIEW
WACKER is one of the world's leading and most research intensive chemical companies and worldwide innovation partner to customers in many key global sectors. With around 16,700 employees, WACKER generated sales of €4.83 billion (2014). Headquartered in Munich, Germany, WACKER globally has 25 production sites and is represented by subsidiaries and sales offices in 28 countries in the Americas, Asia, Australia and Europe. WACKER is represented regionally in North America by Wacker Chemical Corporation, Adrian, MI. For more information please see our annual report.
As a technology leader focusing on sustainability and a Responsible Care® member, WACKER promotes products and ideas that offer high value-added potential to ensure a better quality of life based on energy efficiency and protection of the climate and environment.
---
ELASTOSIL®
Versatile Reliability for Countless Applications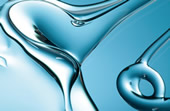 ELASTOSIL® silicone rubber is among WACKER's best established brands. It covers a wide range of high-quality silicone products with extremely diverse properties. Besides silicone rubber and silicone rubber dispersions, the brand also includes silicone-rubber processing additives.
Silicone rubbers consist essentially of silicone polymers and fillers. They undergo high-temperature (HTV) or room-temperature vulcanization (RTV) with suitable reactants, during which the uncured compound in a plastic state is transformed into an elastomeric rubber with a three-dimensional structure.
Silicone rubbers are heat resistant, low-temperature flexible and resistant to aging (UV, ozone and radiation); they are easy to process and have good mechanical properties that remain unchanged over a wide temperature range. They are also reliable and environmentally compatible, with a neutral taste.
ELASTOSIL® silicone products, with their universal range of properties, are used in the most varied industrial applications. Their near-to unlimited potential makes them ideal for applications in almost all industries – such as automotive and mechanical engineering, electronics and electrics, textiles, baby articles, toys, domestic appliances and sports articles, as well as the construction industry.
---
ELASTOSIL® RTV
One and two-part silicone rubbers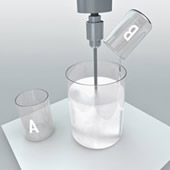 One-part silicone rubber products – RTV-1 are ready to use. They cure at room temperature and are ideal for bonding, or sealing and encapsulation – ELASTOSIL® E ELASTOSIL® A, ELASTOSIL® N.
ELASTOSIL® joint sealants are key players: ready-to-use compounds that have been tailored to the specific demands in the plastics, glazing and construction sectors. They offer the professional solution for any joint with optimum bonding - whether as window, sanitary or glazing sealants or in bonding mirrors and plastics.
Two-part silicone rubbers – RTV-2 may be addition or condensation curing. They can be applied automatically, have long pot lives and vulcanize rapidly when heat is applied. The range is completed by gel products – WACKER SilGel® – and foams – ELASTOSIL® SC. RTV-2 silicone rubbers are used for encapsulation, sealing technology and pad printing – ELASTOSIL® RT.
---
Wet-Type Gaskets
Formed-in-Place Gaskets (FIPGs)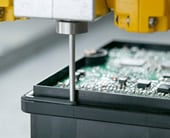 High-performance formed-in-place gaskets must be completely reliable over the lifetime of the component. Whether used in the engine compartment or for electronic components - WACKER silicone sealants confer maximum functionality to FIPGs, even where these have to meet exceptional temperature and material requirements. RTV-1 and RTV-2 sealants are applied manually or by automatic industrial metering equipment. Silicone sealants are available in a range of consistencies – from non-sag to flowable – to suit your production processes and materials requirements.
---
Dry-Type Gaskets
Cured-in-Place Gaskets (CIPGs)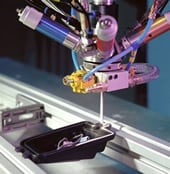 If flexibility and ease of disassembly are what you need, WACKER silicone sealants offer precisely that. RTV-1 and RTV-2 silicone sealants are noted for their excellent adhesion to composite parts. They stay firmly in place until assembly without fixing and allow simple groove designs. WACKER silicone sealants minimize material and production costs because they are economical in application.
---
Electronic Control Devices/ Sensors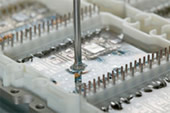 The comfort, safety and fuel efficiency of modern automobiles are mostly governed by the quality of the electronic control devices. High-quality silicone elastomers from WACKER ensure electronic control and safety systems such as anti-locking systems, engine control, air-flow meters and airbags function perfectly and safely over the long term.
---
Coatings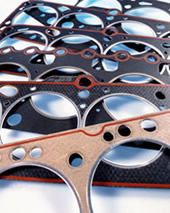 For the radiator to remain in perfect working order over a long time, the overriding requirement is that the system remains absolutely leak-proof. Special attention is paid to the connectors between the many individual parts, such as radiator tanks, radiator pipes, radiator covers, inlet and outlet. RTV-1 silicone rubbers have proven to be ideal for leak-proof sealing of radiators following manufacture. Both the air-side and part of the water-side coating of the cooler floors are sprayed with RTV-1 silicones.
Silicone elastomers also make effective screen-printing and coating materials. In these cases, for example, soft-seals are treated with an impregnating agent to reduce their pore volume. Highly stressed surfaces are then screen printed with silicone rubber and the entire seal is coated with a topcoat.
---
Photovoltaics
Climate-friendly Energy Production
Photovoltaics is an important pillar of future climate-friendly energy production. Manufacturers who want to keep a crucial lead over their competitors need pioneering, competitive products. WACKER offers module manufacturers an integrated package for encapsulation, potting, bonding and special applications in the form of TECTOSIL® silicone-based thermoplastic and the ELASTOSIL® Solar product range.
WACKER solutions:
Ensure integration of the different module components
Fix the mounting systems of frameless large modules
Protect sensitive solar cells against weathering and moisture
Insulate electrical components in the junction box against the most diverse of external effects
Focus sunlight on concentrator cells
For extraterrestrial applications, WACKER offers ESA-approved specialty products from its ELASTOSIL® S range – with properties specifically designed for outer space .
In this way, WACKER's silicones ensure that photovoltaic modules operate reliably and smoothly.
---
As a globally-active chemical company, WACKER is aware of its economic, ecological and social responsibility. This is demonstrated by our social commitment, as well as environmental protection that is integrated into production. To intensify the focus on sustainability within the company, WACKER increased its efforts relating to sustainability in early 2011, putting them on a global footing. The new Corporate Sustainability department manages the voluntary commitments arising from membership of Responsible Care® and Global Compact and drives sustainability activities throughout the Group. With this department, we are positioning our sustainability work to span group-wide and throughout the entire supply chain. It supports and advises WACKER divisions and corporate departments in their sustainability efforts and helps ensure that all business partners also comply with recognized work and social standards, and act responsibly with the environment.
---
Fact Book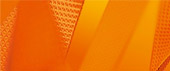 Every year, Wacker Chemie AG publishes a "fact book" containing key information and metrics about our Group, business divisions, activities and results.
---
Order a brochure today!