About

William B. Rudow, Inc. is a manufacturer of rubber and vinyl suckers for the printing, packaging, collating, mailroom, robotics, and parts handling industries. They have been in business since 1946. Since William B. Rudow has supplied continuous service to the trade for over 50 years, they have the know-how, knowledge and expertise with suckers. William B. Rudow's inventory is so complete, they ship over 96% of their orders the day they are received.
Suckers for Most Popular Brands
William B. Rudow manufactures suction cups and printing press parts and accessories for many different printing, collating, and mailroom machines.

Vacuum Cups for Packaging and More
William B. Rudow makes vacuum cups for many different packaging machines, robotics, parts handling and other industrial handling machinery. They have over 1000 different vacuum cups, with a variety of fittings and styles. They make cups in rubber, vinyl, silicone, polyurethane, neoprene, and other materials.
Twist-R-Lock Cup Retainer System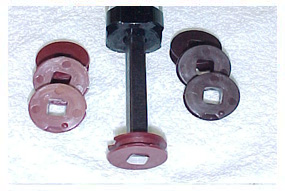 Bread Depanner Suction Cup Retainers are a vital necessity to many bakery operations. William B. Rudow has revolutionized the industry with the Twist-R-Lock Cup Retainer System. These suction cup retainers provide the most time efficient method of installing and removing both the cup and retainer. Their unique "twist-in" feature will reduce your maintenance down time with rapid insertion and removal of retainers and suction cups. Insertion tool available for purchase separately.
Break Through the Time Barrier with Standard Hollo Drills and the Rudow SureFoot!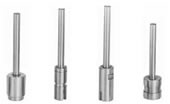 Stay Sharp Longer - Unexcelled Quality - Popular Styles & Sizes - William B. Rudow's Hollo Drills are manufactured with a special alloy of the finest steels: chromium, vanadium, and molybdenum. They resist wear, stay sharp longer, and won't clog, chip, or twist. The razor sharp cutting edges are carefully machined to precise tolerances. Every Rudow Hollo Drill is thoroughly inspected before it leaves their factory. Their paper drills are guaranteed against breakage with normal use.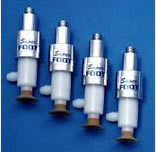 Rudow SureFoot is the best sucker you can buy for a small offset press at any price! The
SureFoot is a vacuum operated telescoping sucker foot that was designed specifically for small offset presses.
Eliminates misfeeds and doubles
Easily handles difficult stocks from onion skin to 12-point index board, even in combination
Increases productivity by reducing down time and allowing faster press speeds.
Installation of the SureFoot on your press takes only minutes, and your savings will immediately be seen. These units act like big press suction feet with positive pick-up of all types of stock.
For more information, please call, fax, email or use our convenient online response form.

Supplier Directory Categories
William B. Rudow, Inc. is listed in these categories: