Profile Home
Supplier:
MTI Instruments Inc.

About
MTI Instruments is very proud of the crucial role it played with many of the world's largest companies whether it's in basic research, improved efficiency during production or quality control by offering solutions directly to the end-user or an embedded technology for leading OEM suppliers.

ISO 9001:2008 certified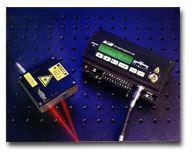 Laser Displacement Sensor Systems – Our laser sensors allow easy position setup and alignment with its visible laser spot.
Fiber Optic Measurement Systems – Sets new performance standards with resolution up to 0.01 µin
Custom Fiber Optic Probes – Measure Dynamic Edge Position, Displacement, Vibration or Runout at Speeds up to 150 kHz
Capacitance Sensor Systems – Our Accumeasure capacitive sensors offer large stand-off distance that includes single and multiple channel rack systems
Custom Capacitance Board – Exceptional value for OEM integration with custom configurations
Capacitance Probe Sensors – we can also design custom capacitive sensors probes including high temperature probes to meet your specific measurement requirements.
Material Tensile, Compression and Bending Systems – These miniature bend, fatigue, strain, compression and tensile testers are designed for use in SEMs, AFMs and LMs
Precision Signal Source/ Function Generator – A portable, dual-channel voltage, frequency and charge signal generator with accuracies exceeding most high-cost laboratory function generators
Wafer Metrology (Manual) – Portable and easy to set-up
Wafer Metrology (Semi- Automated) – Exclusive Push-Pull capacitance technology, that delivers full wafer surface scanning at the press of a button
Vibration Measurement Systems – Designed to quickly pinpoint engine problems and eliminate unnecessary engine removals

Product Catalog
MTI Instruments Inc. is listed in these service categories:
Technical Articles