Profile Home
Supplier:
Te-Co, Inc.

About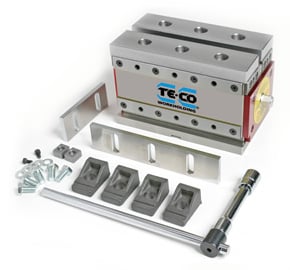 Te-Co, Inc. is a leading manufacturer of tooling components providing solutions for workholding within manufacturing companies for over 75 years. Te-Co's line of premium workholding products include: magnetic workholding, clamps and clamping kits, toggle clamps, jig and fixture kits, flange nuts, coupling nuts, flat washers, leveling pads, spring plungers, ball plungers, Toolex® machinist vises, Toolex® machinist vise jaws, and other machine vise accessories, coordinate measuring machine (CMM) fixturing for inspection and gaging, standoffs, tooling balls, tapped hole location gages, columns and plates, and hoist rings.
Within the spring loaded device product group Te-Co offers a extensive selection of industry standard spring plungers, ball plungers, and hand retractable plungers with varying end force, and body and nose materials: steel, stainless steel, Delrin®, and phenolic.
The Toolex® vise system's unique design with SnapLock® and AccuSnap® or QuickChange™ jaws and parallel features provide quick, simple, and accurate setups for CNC machinists.
For CMM operators, Te-Co's line of CMM fixturing provides an inexpensive, easy-to-use, and highly repeatable solution for holding parts for inspection. Te-Co's friendly customer service department can answer your questions and direct you to a distributor in your area.

Product Catalog