About

The Industrial Leader in Design and Performance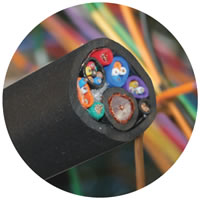 Quabbin Wire & Cable Co., Inc is a privately held corporation head-quartered in Ware, Massachusetts. Quabbin manufactures a variety of thermoplastic shielded cables that are sold through distribution. The factory and offices comprise a 140,000 square foot facility in Ware, Massachusetts, about a two hour drive west of Boston. Quabbin Wire & Cable employs approximately 100 people and has total annual sales of $25,000,000.
LAN cabling is currently Quabbin Wire & Cable's fastest growing wire and cable segment. Quabbin Wire & Cable's DataMax® LAN cables have an international reputation for consistent high quality performance. These products undergo sophisticated testing and are widely used throughout the industry under the DataMax name and also as private labeled product. The 100 ohm UTP (unshielded twisted pair), 100 ohm ScTP (screened twisted pair), and 150 ohm shielded cables for token ring applications are sold throughout the world. Many leading edge LAN equipment manufacturers have evaluated DataMax products and recommend them to interconnect their systems.
Quabbin Wire & Cable also aggressively pursues new product and marketing niches. Examples of some of the newer products are commercial LAN cables for Categories 5e and 6A applications, hardened Industrial Ethernet cables, double shielded low capacitance cables, high speed foam dielectric data cables, T-1, E-1 and T-3 interconnect cable.
Quabbin Wire recently completed an extensive review and conversion of their entire product line so that more than 90% of all cables now comply with European RoHS requirements. This new feature is extremely important to most OEMs and distributors.
Cable applications and markets include:

Local area networks (LANS)
Industrial LAN systems
Telecommunications systems
Control and Instrumentation
Process control interconnect
Computer peripherals

Low capacitance data
Point of sale equipment
Sound and audio instrumentation
Fire alarm and security systems
Medical Devices
Custom designed signaling applications

Supplier Directory Categories
Quabbin Wire & Cable Co., Inc. is also listed in these categories: